FMX
TMS FMX UI Pack
Set of highly configurable and styleable components for cross-platform FireMonkey software development
---
For cross-platform development, we recommend using:
| FMX | |
| --- | --- |
| Architecture based on orginal FireMonkey classes | New independent architecture built-up from scratch |
| Not easy to extend/customize | Easily extendible with many customization options/events |
| Performance degrades when FMX object count increases | Faster performance, high quality graphics |
| Basic design-time integration | Enhanced design-time integration |
| Supports the FMX framework only | Supports multiple frameworks (FMX, VCL, LCL and WEB) |
| | High level of compatibility with older FMX code |
---



Features
---
Feature-rich & powerful grid components
TTMSFMXGridFilterPanel
Filter panel that extends FMX.TMSGrid component
Automatic column header detection
Prefilled filter operations by type
Multidesign for mobile and desktop environment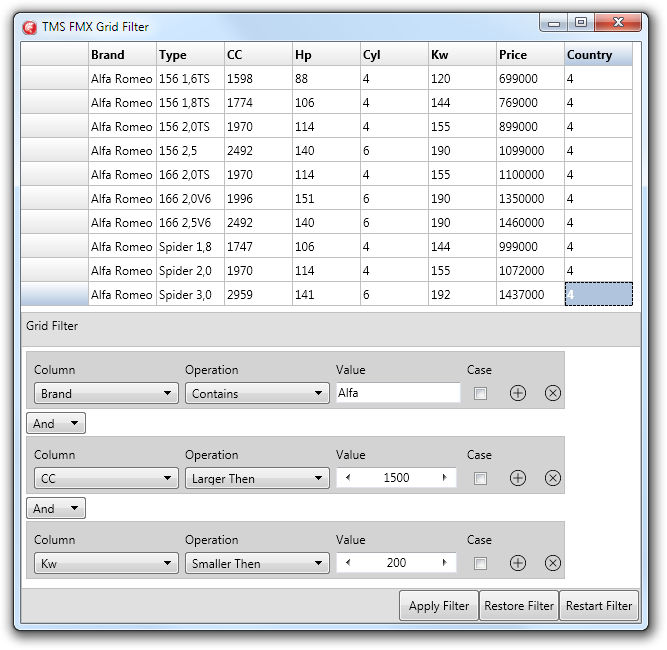 TTMSFMXGrid
Column Persistence
Fixed cell single and range selection
Autosizing columns / rows on double-click
Highly configurable, styleable and flexible grid
Various cell types available and built-in as well as support for custom cell types
Fixed columns left and/or right, fixed rows at top and/or bottom.
Column & row freezing
Several selection modes: single & multi cell, column, row, distinct cell, row, column
Cells with support for HTML formatted text, hyperlinks
Editing with range of built-in editor types and capability of using custom cell inplace editors
Cell merging and splitting
Grouping support with summary rows, and group calculations such as average, sum, min, max, custom calculation...
Filtering with optional auto filtering via dropdown
Different cell layouts for different cell states
Read-only and/or fixed state per cell configurable
Single column sorting, indexed column sorting, grouped column & indexed column sorting
Pixel and cell scrolling modes
Keyboard and Mouse handling customization: tab, enter, insert, delete key handling
Column and row dragging and sizing
Cell controls such as checkbox, radiobutton, button, bitmap, progressbar etc...
Configurable touch scrolling optimized for iOS / Android
Styleable banding
Clipboard support
PDF, HTML & RTF Export
Find and replace functionality with dialogs
Printing support with various print events and custom print drawing
Printing supports displaying a title, description and pagenumber
Print to printer or image file
Built-in support for LiveBindings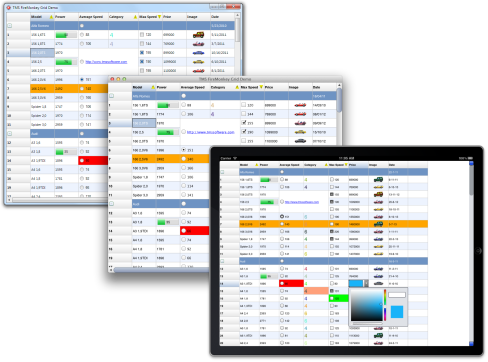 Click image for more screenshots.
TTMSFMXGridPDFIO
PDF Export Component for the TMS Grid for FireMonkey for Windows (QuickPDF), Mac and iOS.
Multiple grid export.
Ability to show title, description and pagenumber per grid with separate font and text color.
Glyphs for Checkbox and RadioButton controls.
Supports vertical gradients, text color and font styles.
High quality rendering of bitmaps used inside the grid.
High quality output with text selection ability (if supported by PDF viewer).
Ability to extend the PDF Export Rendering Library in combination with other PDF Export Engines (Windows Only).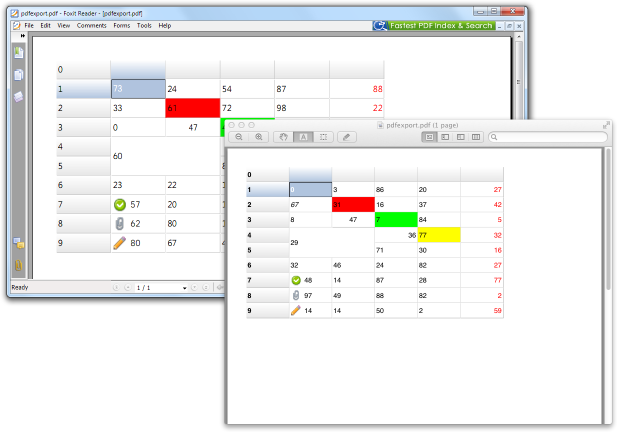 Sample applications
Included in the distribution is a set of ready to use applications that demonstrate the most important features of the grid:
Help
What our customers say
In the past I have purchased other components from other parties. I will say proudly that TMS is the best in support, price and style. Whenever I need a help your team is always there to help me. Keep up the good work
Hi Bruno Just want to drop you a line about how great your presentation was today. We often fail to point out to someone when they do a great job! You did a great job, you gave me a lot of ideas, and you answered my question very well. THANK you for your great products & super support.
Thank you for developing components where I can best describe it like this: TMS components is a case where "The wheels fit the car, and NOT the car fit the wheels". Well done.
As always your support is extraordinary and lightning fast.
Great controls - Just like I remember from the project I worked on 1998-2003. The controls only got better
❮
❯
Trial Downloads
Requires XE7 with update 1, XE8, 10 Seattle, 10.1 Berlin, 10.2 Tokyo or 10.3 Rio, 10.4 Sydney.
For mobile device deployment, the trial version supports deploying in release mode only.
Full functionality of the trial version is limited to macOS, iOS and Android for XE7. No limitations for XE8, 10 Seattle, 10.1 Berlin, 10.2 Tokyo, 10.3 Rio, 10.4 Sydney.

---
Compatibility
Delphi XE7, XE8, 10 Seattle, 10.1 Berlin, 10.2 Tokyo, 10.3 Rio, 10.4 Sydney, 11 Alexandria, C++Builder XE7, XE8, 10 Seattle, 10.1 Berlin, 10.2 Tokyo, 10.3 Rio, 10.4 Sydney, 11 Alexandria (Professional/Enterprise/Architect)
---
Licensing
---
Included In
Bookmarks
×