TMS FNC UI Pack
Powerful, feature-rich UI controls for 4 frameworks and 5+ operating systems
---
Release
TMS FNC Components can be simultaneously used on these frameworks:
TMS FNC Components can be simultaneously used on these operating systems/browsers:
TMS FNC Controls can be simultaneously used on these IDE's:
Features
---
A collection of supercharged list controls
TTMSFNCTableView
HTML formatted items with optional HTML template
More option buttons displayed on a swipe gesture
Lookup functionality with configurable lookup bar
Filtering with option inplace filter edit box
Reload capability
Item accessories such as button, badge, progressbar, detail and more
Detail control for each item
Categories to divide items alphabetically with optional custom categories collection
Sorted items ascending, descending with optional case sensitivity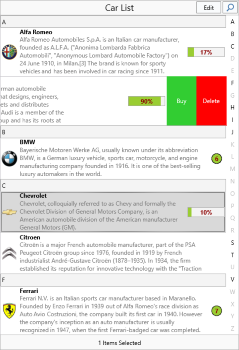 TTMSFNCResponsiveList
Brings responsive design methodology to FMX applications
Designed around a configurable matrix of cells depending on the client area of the control
Support for HTML formatted text
Can host a TTMSFNCResponsibleList within a TTMSFNCResponsibleList
Multiselect support
Touch scroll & keyboard support
Support for displaying controls in items
Custom item drawing
Item template support
Customizable item classes
Design-time editor for configuration of responsive behavior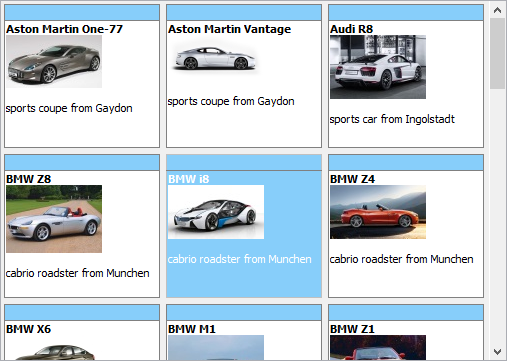 TTMSFNCSearchList
Built-in support to display information in multiple columns
Can display images along with text and an item caption and description text
Can show custom drawn items
Along with items, it has optional support for categories and items can be displayed grouped into categories
A search can be performed on the list within a single column or all columns
The matching text from a search can be highlighted
Items are filtered automatically that match the search criteria
Optional display of matching item count after filtering
TTMSFNCListBox
Multi-line HTML formatted text
Fixed and variable item height
Multiple events for custom drawing and customization of default drawing
Multiple events for all kinds of interactions such as selection, sorting, filtering
Mouse and keyboard interaction
Comes with separate TTMSFNCCheckedListBox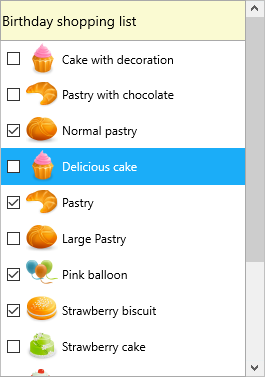 TTMSFNCComboBox
HTML formatted text support
Optional editable setting
Autocomplete and auto dropdown capabilities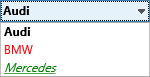 Partner Program
Create your own FNC components and become an FNC Certified partner.
Help
Trial downloads
Trial version: limited to WEB, FMX and VCL. For mobile device deployment, the trial version supports deploying in release mode only.
Buy online
TMS FNC UI Pack
---
for Delphi XE7, XE8, 10 Seattle, 10.1 Berlin, 10.2 Tokyo, 10.3 Rio, 10.4 Sydney, C++Builder XE7, XE8, 10 Seattle, 10.1 Berlin, 10.2 Tokyo, 10.3 Rio, 10.4 Sydney, (Prof/Enterprise/Architect) , Lazarus/FPC
---
View licensing FAQ
---
License for commercial use: Single developer license, Small team license, Site license
Includes full source code
Free 1 year updates and new releases
After 1 year, a 70% discount renewal is offered for a one year extension (offer valid for 30 days)
Free priority support through email and forum

---
This product is also available in the following bundle(s):
Bookmarks