FMX
TMS FMX Grid Excel Bridge
Import/Export bridges to .XLS, .XLSX, .PDF files
---



Feature overview
Interface between TMS FMX Grid and TMS Flexcel to provide import/export capabilities to .XLS & .XLSX, .PDF formats
Support for cross platform use: Win32, Win64, macOS, iOS and Android
Fully native solution to import/export to .XLS, .XLSX without the need for Excel to be installed on Windows & macOS!
Fully native solution to export grids to .PDF
Import/export wide range of cell properties
Import/export of cell images, multi cell images, checkboxes
Wide range of formulas supported
Support for virtually unlimited nr. of columns & rows for import/export with new .XLSX file format
Free download, can be used by registered users of TMS FMX UI Pack and TMS Flexcel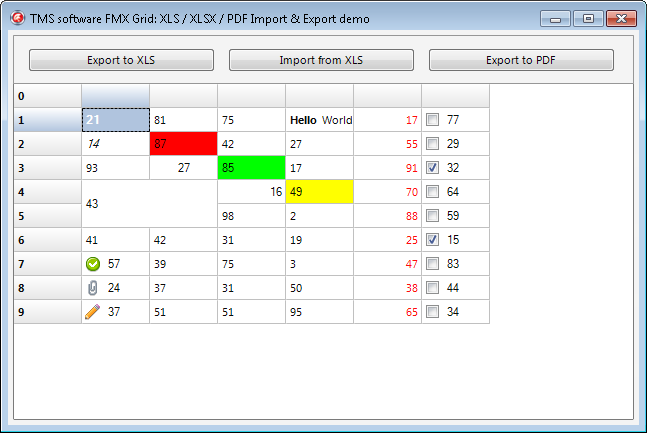 TMS FMX Grid running on Windows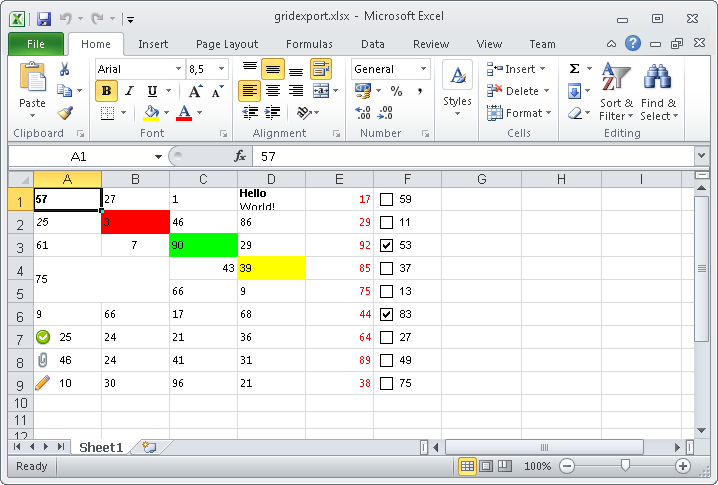 XLSX file generated on Windows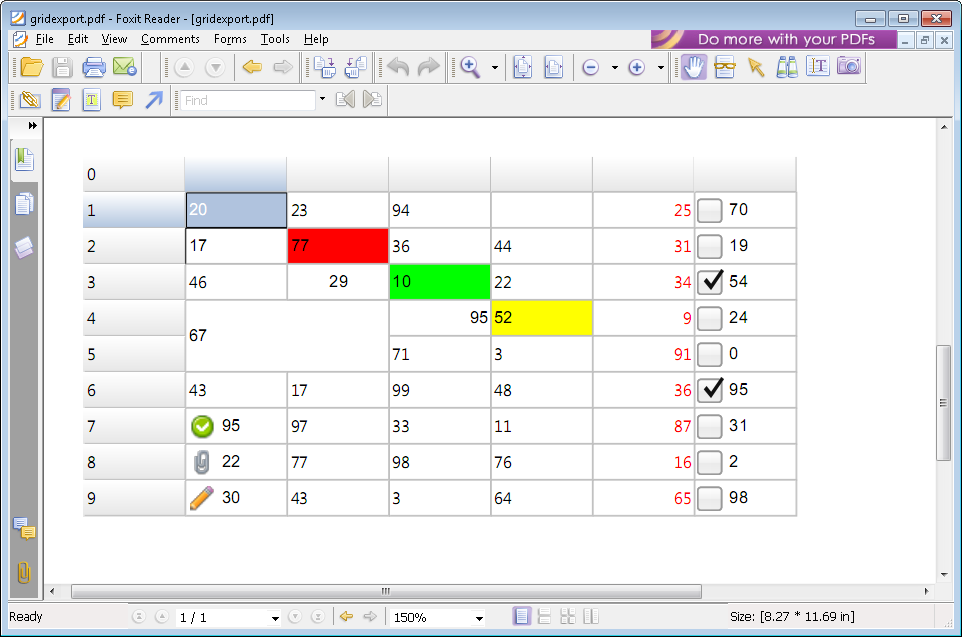 PDF file generated on Windows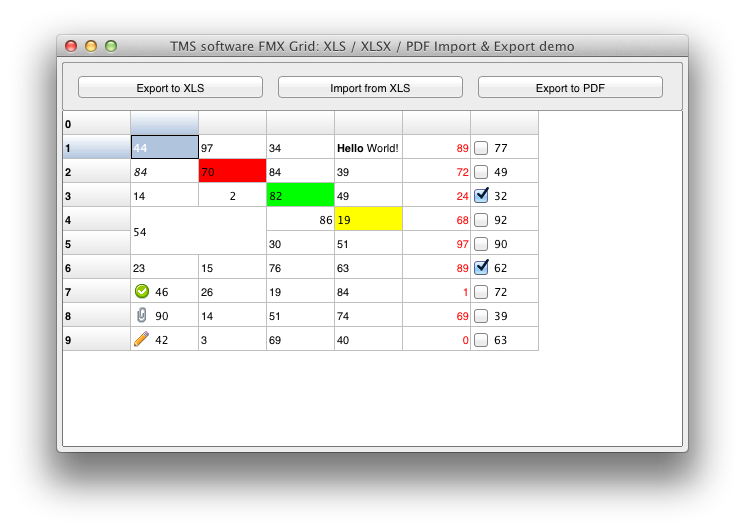 TMS FMX Grid running on macOS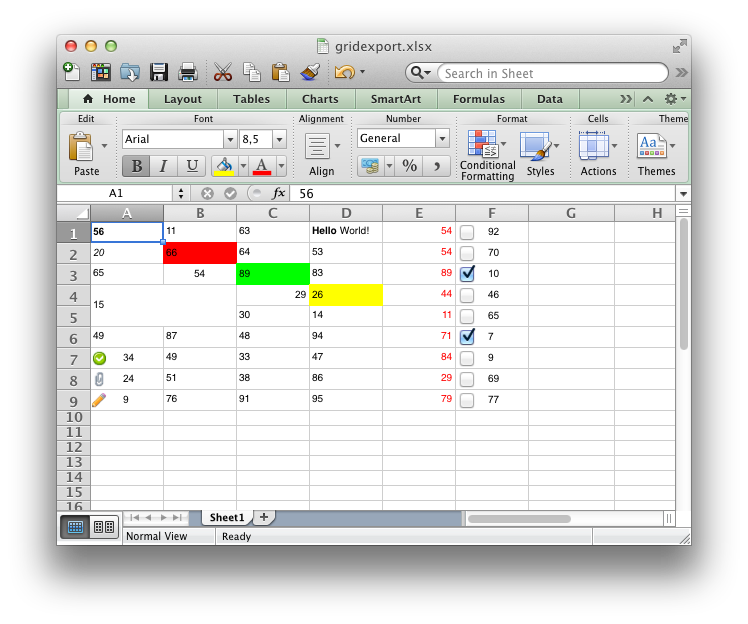 XLSX file generated on macOS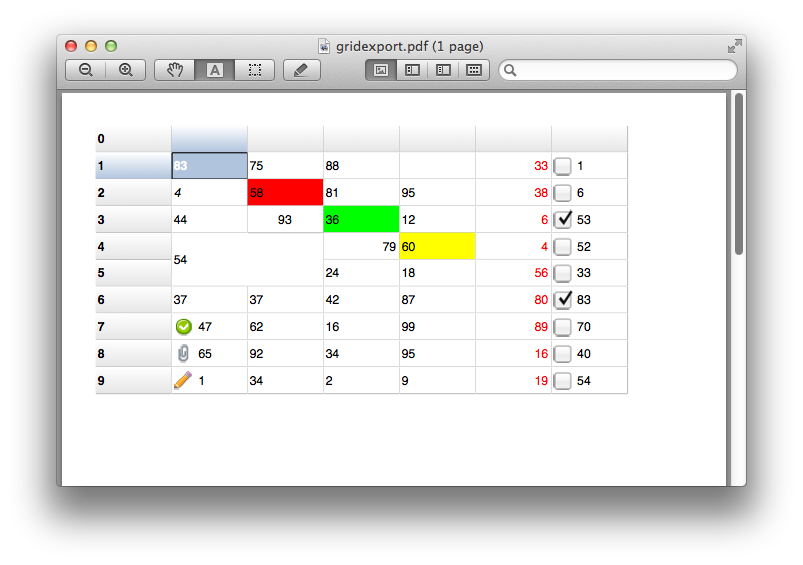 PDF file generated on macOS
Help
What our customers say
In the past I have purchased other components from other parties. I will say proudly that TMS is the best in support, price and style. Whenever I need a help your team is always there to help me. Keep up the good work
Hi Bruno Just want to drop you a line about how great your presentation was today. We often fail to point out to someone when they do a great job! You did a great job, you gave me a lot of ideas, and you answered my question very well. THANK you for your great products & super support.
Thank you for developing components where I can best describe it like this: TMS components is a case where "The wheels fit the car, and NOT the car fit the wheels". Well done.
As always your support is extraordinary and lightning fast.
Great controls - Just like I remember from the project I worked on 1998-2003. The controls only got better
❮
❯
Free Downloads
Requires that both TMS FMX UI Pack and TMS Flexcel for VCL/FMX are installed.
---
Included In
Bookmarks