Blog
All Blog Posts | Next Post | Previous Post



Bookmarks:
Monday, June 29, 2020
Support is an essential part of software development. Not only to get you up to speed if you are struggling with getting to know a new product but also if there is a problem with a product in an existing application. It is important to get good quality support when you need it.

Here at tmssoftware.com, we pride ourselves in providing the best possible support for our customers. We are constantly working on improving our support channels and one of those channels is getting a major overhaul today.


Introducing the TMS Support Center
The new TMS Support Center will replace the TMS Forum from today and includes a whole lot of new features and technical improvements.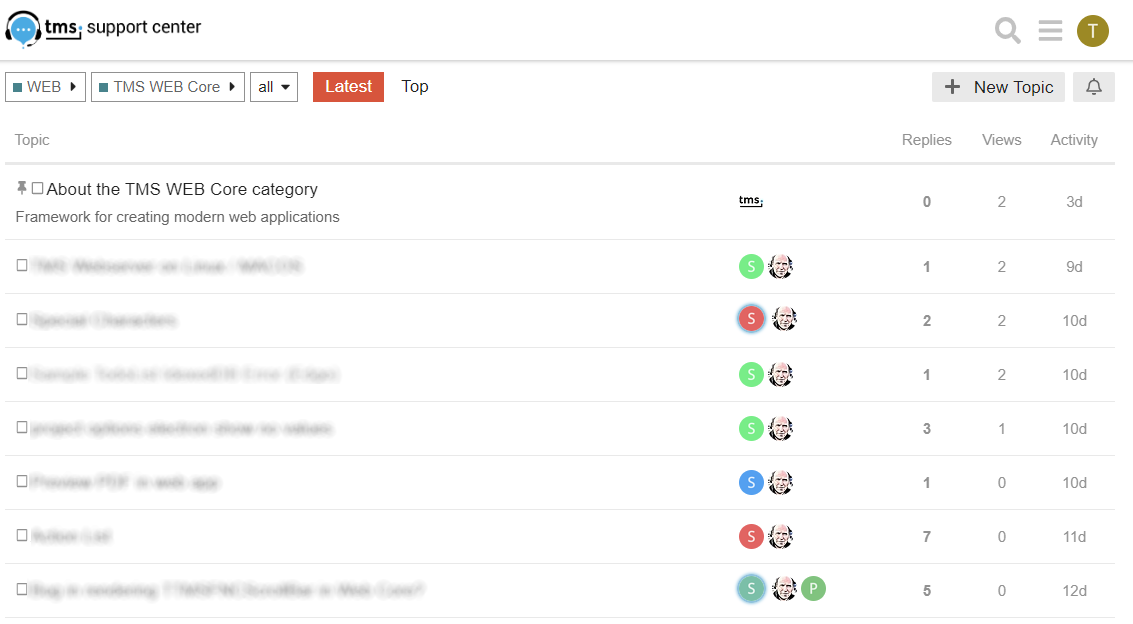 Watch Gjalt's introduction video on our Youtube channel.





Features
Structure
The new TMS Support Center is structured in the same way as the tmssoftware.com website. On the main page a list of categories/frameworks is displayed along with an overview of the latest topics. Pick a category to display a list of products belonging to that category. Pick a product to consult previous posts about that product or create a new topic.


Access
Access to the TMS Support Center is free. However, to make sure providing support remains manageable and fast, posting questions is only allowed for customers with an active license for a specific product.

By letting all active registered users take part, anyone using the same product is encouraged to join the discussion and provide their own insights, experiences, or even solutions.


Search
Making search quick and easy is important. This enables you to find out if a particular question has been answered before and get a previously suggested solution right away without needing to wait for an answer.

All data from the TMS Forum has been migrated to the new TMS Support Center. As such the TMS Support Center also acts as a giant searchable archive from day 1.


Uploads
Sometimes words alone just aren't enough. Add images and files to your question with ease.


Mobile friendly
Want to access the TMS Support Center while away from your desktop? No worries, the site is fully compatible with mobile browsers.


Conclusion
The TMS Support Center will allow us to keep providing you with the best possible support more efficiently than ever. Now and in the future!

Bart Holvoet
Bookmarks:

This blog post has received 7 comments.









All Blog Posts | Next Post | Previous Post