VCL
TMS VCL MultiTouch SDK
SDK to create immersive interactive multimedia applications or public point of sale touch based information systems.
---
Release
v1.3.0.0 (November 26, 2018)
Feature overview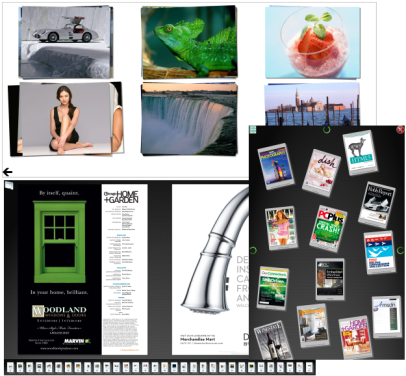 Click image for more screenshots.
Multi-touch manipulations of items: rotate, scale, pan, zoom, move,...
Display modes for items: Cascade, Grid, Position, Random, Stacked and Transform
Items can have an image, text or combined image and text
Items can have associated controls
Items have default content & detail content with flip animation between default & detail
Visualizer concept to allow to display any kind of file type (includes visualizer for shell preview & PDF)
Custom drawing on items
Manipulation of region background (pan, zoom, scale)
Static control items on region
Built-in methods to perform screen rotate (0°,90°,180°,270°)
Different states for each item : normal, selected
Animation transitions
Automatic paging in grid mode
Automatic stack to other display mode transitions
Configurable number of rows / columns in grid mode
Complex fills on items, control items
Includes the entire range of TMS Smooth Controls with iPhone/iPad style thumbnail list, calendar, touch keyboard, popup, buttons, trackbars, megamenu, dock bar,... and much more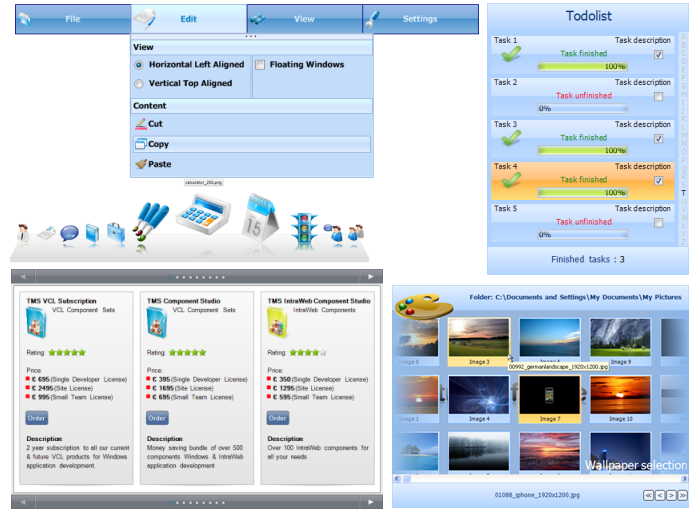 Consulting and hardware
TMS software offers consulting services to create immersive multi-touch applications for you or your customer. In addition, TMS software offers multi-touch ready POS hardware starting from 32" to 60" screens. Prices start at 3.990 EU for a 32" screen.
Third parties
For the rendering of pages of a PDF document, the TMultiTouchRegionPDFVisualizer offers seamless interfacing to the QuickPDF library. More information, trial download & licensing information for the QuickPDF library can be found at:
http://www.quickpdflibrary.com/
Demo overview
HD screenshots
Video TMS MultiTouch SDK and TMS SmoothTable hardware
To show the multitouch handling and animation that is offered in the TMS MultiTouch SDK we've made a video of the 5 demos in action on the TMS SmoothTable:
Help
VCL
Buy online
TMS VCL MultiTouch SDK
---
for Delphi 2010, XE, XE2, XE3, XE4, XE5, XE6, XE7, XE8, 10 Seattle, 10.1 Berlin, 10.2 Tokyo, 10.3 Rio, C++Builder 2010, XE, XE2, XE3, XE4, XE5, XE6, XE7, XE8, 10 Seattle, 10.1 Berlin, 10.2 Tokyo, 10.3 Rio (Prof/Enterprise/Architect)
---
View licensing FAQ
---
License for commercial use: Single developer license, Small team license, Site license
Includes full source code
Free 1 year updates and new releases
After 1 year, a 70% discount renewal is offered for a one year extension (offer valid for 30 days)
Free priority support through email and forum

---
This product is also available in the following bundle(s):
Bookmarks