VCL
TMS Component Pack
Create modern-looking & feature-rich Windows applications faster with well over 600 components in one money and time saving bundle for Delphi 7, 2007, 2009, 2010, XE, XE2, XE3, XE4, XE5, XE6, XE7, XE8, 10 Seattle, 10.1 Berlin, 10.2 Tokyo, 10.3 Rio & C++Builder 2007, 2009, 2010, XE, XE2, XE3, XE4, XE5, XE6, XE7, XE8, 10 Seattle, 10.1 Berlin, 10.2 Tokyo, 10.3 Rio
---
Features
---
Miscellaneous components to make your applications stand out from the rest
TAdvScrollMenu *
Menu control with hierarchical structure
Variable number of hierarchical menu items collections
Smooth scrolling & swiping on touch devices
Highly customizable

TAdvPDFLib *
TAdvBadgeButton, TAdvBadgeLabel, TAdvBadgeSpeedButton & TAdvBadgeGlowButton *
Regular label, button, speedbutton and glowbutton with optional attached badge label
Customizable badge color & badge text color
Badge size automatically adapts to badge text size
Badge automatically disappears when badge text is empty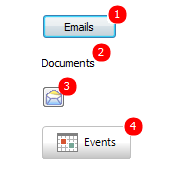 TAdvRatingGrid *
Customizable tickmarks
Separator items
Items can be radiogroup for single rate selection or checkgroup for multiple feature selection
Items & rating categories can be displayed with different font colors & font styles
Up to 64 rating categories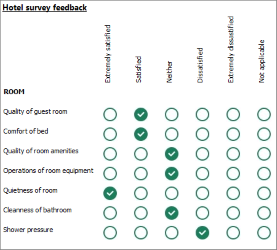 TAdvWordCloud & TAdvWordCategoryCloud
TAdvWordCloud: Component to pick single or multiple words from a collection of values
TAdvWordCategoryCloud: Component to pick single or multiple words from a collection of values divided in categories
Colors can be set for words in normal state, hover state, selected state, down state
Single or multi select capability
Different events: word click, word select, word unselect
Word list can autosize to nr. of words in the list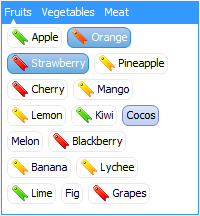 TMS Metro Controls
TAdvMetroCategoryList: Metro style category list control
TAdvMetroForm: Metro style form with easy synchronisation of Metro style with other UI controls on form
TAdvMetroTaskDialog, TAdvInputMetroTaskDialog: Metro style task dialog / input task dialog
TAdvMetroScrollBox: Metro style scrollbox with flat scrollers
TAdvMetroButton, TAdvMetroToolButton: Transparent button automatically turning Metro symbols in proper Metro colors
TAdvMetroHint: Turns all hints on the form in Metro style flat hints
TAdvMetroProgressBar: Flat Metro style progress bar
TAdvMetroTile: Tile in Windows 8 style with support for HTML formatted text, picture/text with layout control, zoom on hover, auto coloring of monochrome symbols
TAdvFormStyler, TAdvAppStyler: Form-wide & application wide Metro style setting
Functions: direct replacements for ShowMessage,ShowMessageFmt,MessageDlg in Metro style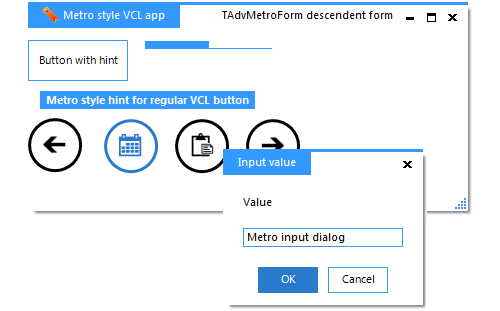 TMS W7 Controls
Creating Windows 7 style UIs
TW7ToolBar: Toolbar that you can see in the top part of the Windows Explorer window.
TW7ToolButton: Button located on TW7ToolBar. This button can be placed on any other object.
TW7InformationBar: Panel containing any kind of information.
TW7PageSelector: These objects can be used as switches between different pages of your program.
TW7ProgressBar: ProgressBar used for displaying the free disk space in Windows Explorer.
TW7ActiveLabel: This object works best if used as a hyperlink or an internal link.
TW7ListViewItem: An empty ListView Item that can be used as a container for other components and can be placed on any object.
TW7TaskItem: Based on TW7ListViewItem, this component should be used for selecting a task that the user must complete.
TW7NavigationButton: Button used for back/forward navigation.
TW7NavigationFrame: Graphic object for framing TW7NavigationButton.
TW7LeftPanel: Panel usually located in the left and containing links to additional actions.
TW7CaptionPanel: Panel that usually contains a title and is located at the top.
TW7SpeedButton:Button used, for example, in the Windows 7 calculator.
TW7Image: TW7Image is identical to TImage, but contains a number of useful properties.
TW7Panel: Panel that has a number of styles, including the style of the digits display window in Windows calculator and iPhone style.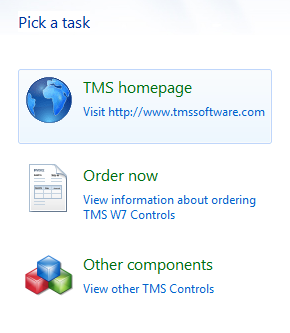 TMS Advanced DropDown Controls
Built-in Office 2003/2007/Windows Vista/Windows 7 styles
Dropdown can have optional header or footer with HTML formatted text
Dropdown can be sizeable
Allows to add range of custom buttons in both header and footer
Dropdown with any TCustomControl descendent
Multi-column dropdown control included
Google addressbar like detail dropdown list with support for HTML formatted text, images,...
Different color picker dropdown controls
Editor can be readonly or not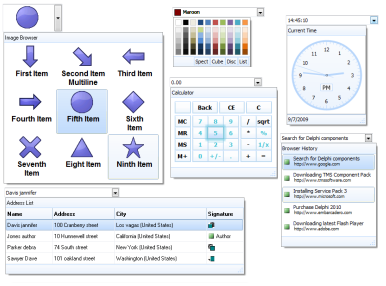 TAdvOfficePager
Metro / Office 2010 / 2007 / 2003 style page control with smooth gradients and glow effect on tab buttons.
Each tab can have a close button on the tab or separate close button. The TAdvOfficePager has scroller buttons to scroll to pages or a dropdown page list to select a page. Tabs on left or right can be rotated or not.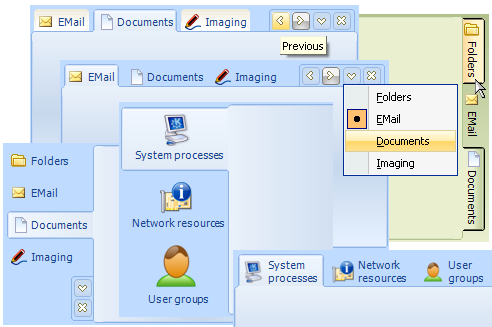 TAdvOfficeButtons
Office 2007 style transparent checkbox, radiobutton, checkgroup, radiogroup with HTML formatted captions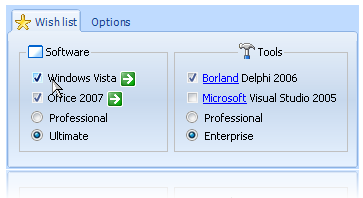 TTaskDialog
Component to use the new Windows Vista TaskDialog on Windows Vista and seamless emulated version for older operating systems. Includes TAdvInputTaskDialog to query input from user via edit, combobox, datepicker, memo or custom control and parameter compatible replacement functions for standard VCL ShowMessage(), MessageDlg(), InputQuery(). Call AdvShowMessage(), AdvMessageDlg(), AdvInputQueryDlg().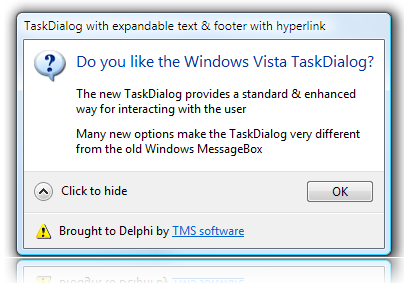 TAdvCardList
Highly customizable & flexible editable card list. Card list offers built-in filtering, sorting and inplace editing with various edit control types. Several criteria can be set to automatically decide to show/hide an item on a card. DB-aware version included with TPicture image, memo & memo fields support.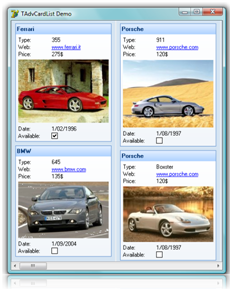 TColumnListBox
TColumnComboBox
A listbox and a combobox control with an easy interface to display multiple columns, with their own color, font, alignment and with text or images. Sorted & SortColumn property to allow sorting on any column LookupIncr & LookupColumn property to allow (incremental) keyboard lookup on any column. The Combobox can have either the normal look or the flat Office 2000 look.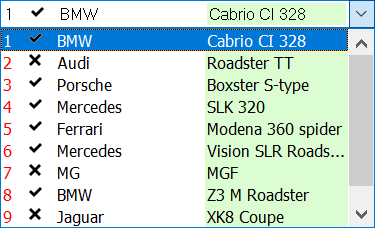 Parameter controls
The parameter controls is a set of components where the user can easily set several parameters through inplace clicking, like in the Outlook rules wizard. Parameters can be set through a custom interface or through selection from a dropdown listbox or popup menu. Contains
TParamTreeView
,
TParamLabel
,
TParamListBox
,
TParamCheckList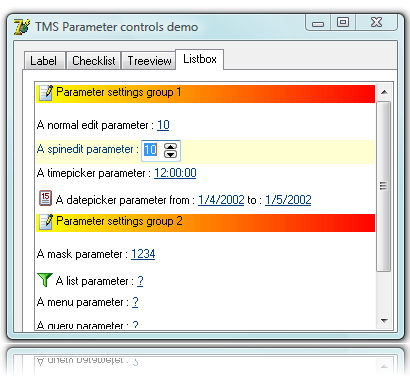 TAdvDBLookupComboBox
Multi column DB lookup combobox. Allows filtering of lookup listsource for limited selection lookups and sorting on columns in lookup dropdown. Can perform type-ahead lookup on multiple columns. Various settings for column display & dropdown behavior. Attached label with position control and optional display of listfield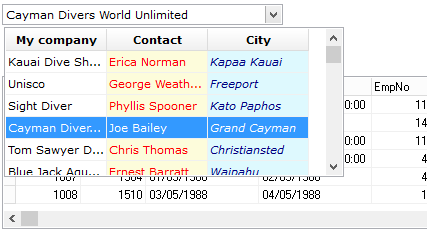 TAdvNavBar
Outlook 2003 / 2007 style navigational control, VCL and VCL.NET compatible. Capability to define logical sections in panels and to collapse/expand control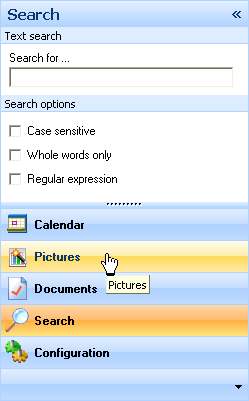 TAdvAlertWindow
Outlook 2003, 2007 style alert window, supports the TMS mini HTML formatting capabilities. Can show multiple messages with easy navigation between messages. Programmable fade-in, fade-out and customizable glyphs for close, previous message, next message.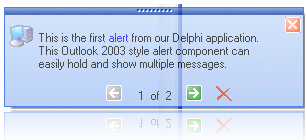 TMS EPC/EIC Chart
Energy Performance Certificate / Environmental Impact Rating chart
ReadOnly or can be edited with mouse and/or keyboard
Can show Current and/or Potential values
Easy export to .BMP file
Can be used as graphic (via SPBEPC.Picture property)
Fully customizable text for title, top and bottom caption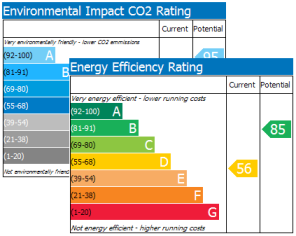 * New components from Delphi XE & C++ Builder XE and newer available
Help
Trial downloads
Fully functional trial versions of each part of the TMS Component Pack can be downloaded from the separate product pages.
VCL
Buy online
TMS Component Pack
---
for Delphi 7, 2007, 2009, 2010, XE, XE2, XE3, XE4, XE5, XE6, XE7, XE8, 10 Seattle, 10.1 Berlin, 10.2 Tokyo, 10.3 Rio, C++Builder 2007, 2009, 2010, XE, XE2, XE3, XE4, XE5, XE6, XE7, XE8, 10 Seattle, 10.1 Berlin, 10.2 Tokyo, 10.3 Rio (Prof/Enterprise/Architect)
---
View licensing FAQ
---

---
This product is also available in the following bundle(s):
Bookmarks