FREE
TMS IDE Plugin Pack
4 free IDE plugins for RAD Studio 10.1 Berlin
---
Feature overview
TMS IDE Plugin Pack offers 4 free plugins for RAD Studio 10.1 Berlin integrated in the Delphi & C++Builder IDE.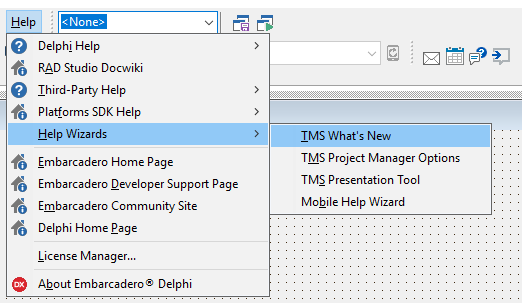 Including
TMS What's New
IDE plugin to keep current with the latest releases, blogs & tweets from TMS software.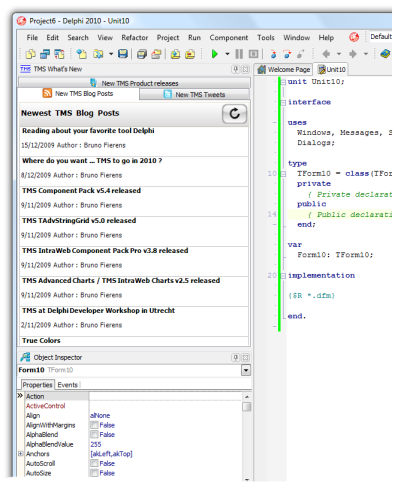 Features
View latest product updates, release history, component descriptions
Stay in touch with the latest blog articles as they are written
Instantly view TMS tweets
Detailed product information with the latest updates
TMS Project Manager
IDE plugin to easily ZIP and upload projects. When installing the package, the project manager gets two new options: ZIP project and ZIP & upload project. The first option will traverse all files in the project and add this to ZIP file and open Windows Explorer in the project folder. The 2nd option will upload the ZIP file to a preset FTP server and put the link to the file on the clipboard. This link can then be pasted in the email to reply to the customer.
Features
Configurable upload settings
Configurable file mask
Create and / or upload projects with 2 clicks
TMS Presentation Helper & Clipboard Monitor
IDE plugin to monitor clipboard, track clipboard history and to save & load code snippets for giving presentations with Delphi.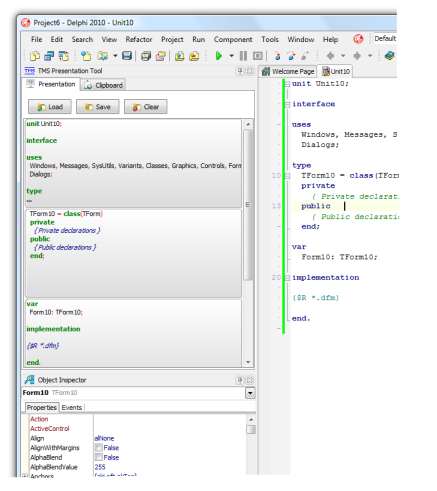 Features
Code snippet overview to help during presentation
Code snippets in the presentation helper can have a title to easily synchronize with presentations
Automatic Pascal syntax highlighting on all code snippets
Clipboard monitoring, clipboard history tracking
Drag-drop support allows to drag code snippets from the presentation helper or clipboard monitor directly to the editor
Double-click or drag-drop code to a source file
Easily copy or cut multiple code snippets to the clipboard and recall later
TMS IDE Rich Clip
IDE plugin to copy source code with syntax highlighting to the clipboard. When installing the package, the IDE Edit menu gets two new items: "Copy as RTF" and Copy as "HTML". The editor context menu also gets these two new items added. Selecting "Copy as RTF" will copy the selected source code in the editor with syntax highlighting as rich text to the clipboard and the text can be pasted for example in MS Word with all syntax highlighting applied. When selecting "Copy as HTML", the selected source code is copied as HTML formatted text with syntax highlighting to the clipboard and can for example be pasted in the browser and will be rendered with all syntax highlighting applied.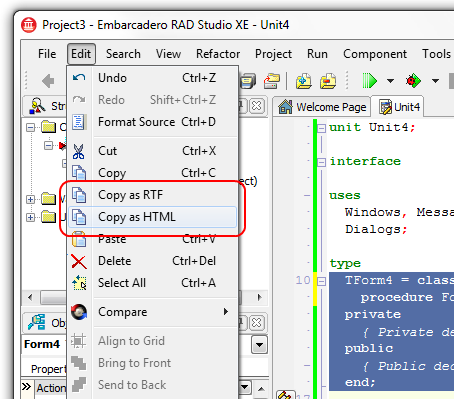 Features
Copy selected source code in IDE editor as rich text
Copy selected source code in IDE editor as HTML formatted text
Automatically retrieves IDE syntax highlighting color settings
Help
What our customers say
In the past I have purchased other components from other parties. I will say proudly that TMS is the best in support, price and style. Whenever I need a help your team is always there to help me. Keep up the good work
Hi Bruno Just want to drop you a line about how great your presentation was today. We often fail to point out to someone when they do a great job! You did a great job, you gave me a lot of ideas, and you answered my question very well. THANK you for your great products & super support.
Thank you for developing components where I can best describe it like this: TMS components is a case where "The wheels fit the car, and NOT the car fit the wheels". Well done.
As always your support is extraordinary and lightning fast.
Great controls - Just like I remember from the project I worked on 1998-2003. The controls only got better
❮
❯
---
Included In
Bookmarks