Blog
All Blog Posts | Next Post | Previous Post



Bookmarks:
Thursday, January 23, 2020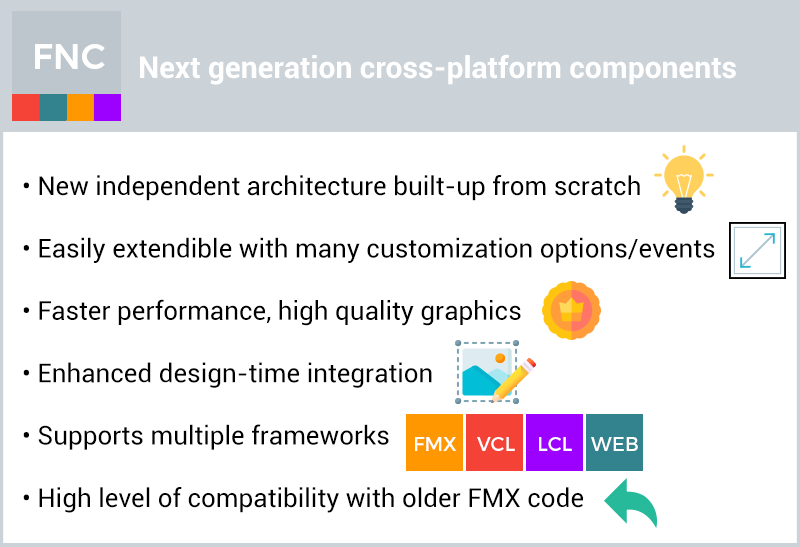 Our team is very hard at work to continue to extend and improve our products, extend the documentation and make new demos. We do this on a daily basis to make sure we offer you the best solution for your projects!

In 2019 we focused primarily on our FNC framework. Not only improving our existing components, but also adding new products, such as the TMS FNC Cloud Pack, TMS FNC Dashboard Pack, ...
And that because we truly believe that FNC is the next generation cross-platform framework!

Our FNC development originated from our vast experience and deep technical expertise developing FMX components since it first appeared in Delphi in 2011 and as it became available in TMS FMX UI Pack, TMS FMX Chart and TMS FMX Cloud Pack. We developed it because with our experience, we thought there was a better way to create cross-platform UI controls.

The most important differences between FMX and FNC are:


Architecture based on orginal FireMonkey classes
Not easy to extend/customize
Performance is hard to achieve when complex UI controls involve many objects
Basic design-time integration
Supports the FMX framework only




New independent architecture built-up from scratch
Easily extendible with many customization options/events
Faster performance, high quality graphics
Enhanced design-time integration
Supports multiple frameworks (FMX, VCL, LCL and WEB)
High level of compatibility with older FMX code


TMS FNC components can be simultaneously used on these 4 frameworks:


TMS FNC components can be simultaneously used on different operating systems and browsers:


Unique advantages of FNC
an easy maintainable single-source cross-framework/cross-platform code base
seamless integration in new and existing applications, can be mixed with other regular FMX or VCL controls
high performance and high quality graphics
intuitive & consistent property layout to smoothen the learning curve
only 1 license & only 1 learning curve to create applications for VCL, FMX, LCL and WEB
Large range of FNC controls available


Looking for components to enhance your cross-platform project? We invite you to visit the TMS FNC landing page where more information is provided, including key features, demos and more...

Upgrade your license to TMS FNC components and take advantage of the different possibilities to develop extraordinary projects.

Eager to try out our FNC components?

Contact sales@tmssoftware.com for the best discount upgrade offer depending on your currently purchased products.

Masiha Zemarai
Bookmarks:

This blog post has received 3 comments.






All Blog Posts | Next Post | Previous Post