VCL
TMS Component Studio
Power bundle of components for VCL Windows development, Firemonkey cross-platform development + IntraWeb web development
---
Release
Current contents of the TMS Component Studio
---
---
---
---
---
---
---
TMS Subscription Manager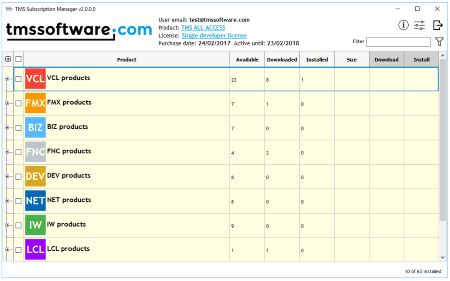 The TMS Subscription Manager can be used for a first time installation of all products after purchase as well as use it to check if updates are available and if so, download and install the updates. Users with an active subscription can obtain the TMS Subscription Manager after login on our website.

Help
Testimonials
VCL Component Studio is AWESOME and the components are used every single day!



— David Case via email
---
Trial downloads
Fully functional trial versions of each part of the TMS Component Studio can be downloaded from the separate product pages.
VCL
Buy online
TMS Component Studio
---
for Delphi 7, 2007, 2009, 2010, XE, XE2, XE3, XE4, XE5, XE6, XE7, XE8, 10 Seattle, 10.1 Berlin, 10.2 Tokyo, 10.3 Rio, 10.4 Sydney, C++Builder 2007, 2009, 2010, XE, XE2, XE3, XE4, XE5, XE6, XE7, XE8, 10 Seattle, 10.1 Berlin, 10.2 Tokyo, 10.3 Rio, 10.4 Sydney (Prof/Enterprise/Architect)
---
View licensing FAQ
---

---
This product is also available in the following bundle(s):
Bookmarks