IW
TMS IntraWeb WebOSMaps
Mapping component to integrate, display & control OpenStreetMaps in IntraWeb applications
---
Feature overview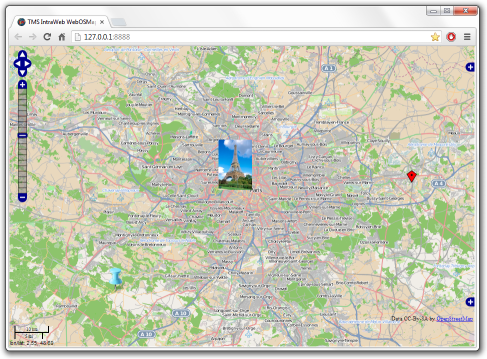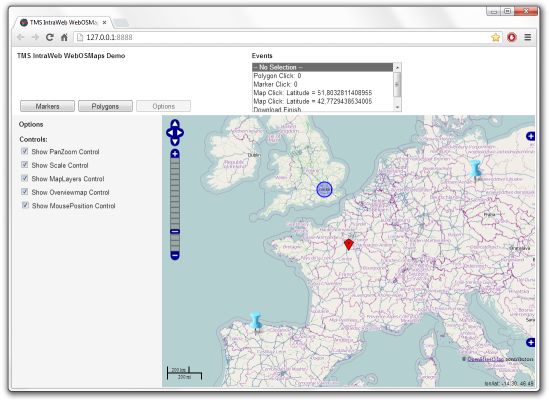 Click image to enlarge screenshots.
Position markers can be added to the maps. Markers can be default balloons or custom images.
Markers is a collection of positions that are indicated on the map. Markers are based on longitude and latitude coordinates.
A custom label text can optionally be displayed on top of a Marker, polyline or polygon or anywhere on the map.
Polylines is a collection of lines that are displayed on the map. Polylines are based on a list of longitude and latitude coordinates.
Polygons is a collection of closed lines with a filled region that are displayed on the map. Polygons are based on a list of longitude and latitude coordinates (for Polygons of type ptPath), a center point and radius (for Polygons of type ptCircle) or two longitude and latitude coordinates (for Polygons of type ptRectangle).
Different controls are available and can be turned on or off. LayerSwitcher, OverViewMap control, PanZoom control, Scale control and MousePosition. The position on the screen of the control as well as the visibility can be defined.
Different mouse and keyboard options are available: dragging of the map, enabling/disabling all controls, enabling/disabling zoom on double clicking the mouse, enabling/disabling the mouse scroll wheel and enabling/disabling the keyboard.
Support for Asynchronous updating
Asynchronous events, client events and selected synchronous events
Terms of use
With the purchase of TTIWWebOSMaps, you are entitled to our consulting and support services to integrate the OpenStreetMaps service in Delphi or C++Builder applications and with this consulting and support comes the full source code needed to do this integration. As TTIWWebOSMaps uses the OpenStreetMaps and OpenLayers services, you're bound to the terms of these services that can be found at:
http://www.openstreetmap.org/copyright
TMS software is not responsible for the use of TTIWWebOSMaps. The purchase of TTIWWebOSMaps does not include any license fee that you might possibly be required to pay to OpenStreetMaps/OpenLayers. It will depend on your type of usage of the OpenStreetMaps/OpenLayers services whether a license fee needs to be paid to OpenStreetMaps/OpenLayers. It is the sole responsibility of the user or company providing the application that integrates the OpenStreetMaps/OpenLayers services to respect the OpenStreetMaps/OpenLayers terms and conditions. TMS software does not take any responsibility nor indemnifies any party violating the OpenStreetMaps/OpenLayers services terms & conditions.
Limited warranty
TMS software cannot guarantee the current or future operation & uptime of the OpenStreetMaps/OpenLayers services. TMS software offers the consulting and support for TTIWWebOSMaps in good faith that the OpenStreetMaps/OpenLayers services are reliable and future-proof services. In no case, TMS software shall offer refunds or any other compensation in case the OpenStreetMaps/OpenLayers services terms/operation change or stop.
Help
What our customers say
As a developer for 30+ years, and a Delphi developer since 1996, I've a solid foundation on desktop development. But I was skeptical of indulging in web development. Though the market was demanding a switch, it seemed too difficult to make the transition. TMS Software was my "magic bullet" to get me started with zero intimidation. Love their Web Core and XData products. Now I can develop powerful web applications using Delphi. TMS Software has renewed my love for Delphi and won my heart for their innovators. Thanks to the team for great products and a large volume of demos and manuals. You ROCK!
In the past I have purchased other components from other parties. I will say proudly that TMS is the best in support, price and style. Whenever I need a help your team is always there to help me. Keep up the good work
Hi Bruno Just want to drop you a line about how great your presentation was today. We often fail to point out to someone when they do a great job! You did a great job, you gave me a lot of ideas, and you answered my question very well. THANK you for your great products & super support.
Thank you for developing components where I can best describe it like this: TMS components is a case where "The wheels fit the car, and NOT the car fit the wheels". Well done.
As always your support is extraordinary and lightning fast.
❮
❯
Trial Downloads
Trial version requires VCL for the Web (IntraWeb) version 12.0.0 or Delphi XE/XE2/XE3/XE4/XE5/XE6/XE7/XE8/10 Seattle/10.1 Berlin/10.2 Tokyo with default IntraWeb version. Registered version works with all IntraWeb 11.x, 12.x, 14.x, 15.x versions.
Site license
---
unlimited developers in the company
€ 465 yearly renewal * € 1550

---

---
Compatibility
2010, Delphi 2009, XE, XE2, XE3, XE4, XE5, XE6, XE7, XE8, 10 Seattle, 10.1 Berlin, 10.2 Tokyo, 10.3 Rio, 10.4 Sydney, C++Builder 2009, 2010, XE, XE2, XE3, XE4, XE5, XE6, XE7, XE8, 10 Seattle, 10.1 Berlin, 10.2 Tokyo, 10.3 Rio, 10.4 Sydney (Professional/Enterprise/Architect)
---
Licensing
License for commercial use: Single developer license, Small team license, Site license
Includes full source code
Ask questions to our engineers related to purchased product via Support Center
Free 1 year updates and new releases
After 1 year, a discount renewal is offered for a 1 year extension. *
* offer valid for 30 days after end of license. Discount price is subject to change.
---
Included In
Bookmarks
×