TMS
TMS Flexcel Studio for .NET WebPlanner Exporter
Accurate XLS, XLSX, PDF, PNG, GIF, JPG, TIFF, HTML from your online schedule or planning cannot get any simpler!
---
Feature overview
WebPlanner
offers the most comprehensive and feature rich ASP.NET component for single & multi resource web based scheduling and planning applications. With
Flexcel .NET
the full power of WebPlanner can now be exported to XLS, PDF, images ... The WebPlannerExport component also shows the versatility, detail, strength and unmatched speed of the Flexcel .NET component.
Seamles export of a WebPlanner to an XLS, XLSX, PDF, PNG, GIF, TIFF, HTML
Can stream the exported file directly to the browser or generate files on the server
Can use XLS templates for customizing header, footer, adding company logo ... etc..
Works with ASP.NET (.NET 1.1,2.0,3.0,3.5)
Supports Visual Studio 2003, 2005, 2008 or Delphi 2005, 2006, 2007
Works with WebPlanner v2.5.0.0 or higher
Component is free with source code
Extremely simple to use. Drop a WebPlannerExport component on the form, assign the WebPlanner and call the code:




exporter.BeginExport();
	exporter.Export("2005 Plan", 1, 1, true);
	exporter.SendToBrowser(Response, ExportType.Xls, "test");




What's new
New: WebPlanner Export interface. With the WebPlanner interface, exporting a WebPlanner to XLS, XLSX, PDF, PNG, GIF, TIFF, HTML becomes like breeze !
Screenshots
Typical scenario for WebPlannerExport:
WebPlanner ASP.NET scheduling control in action: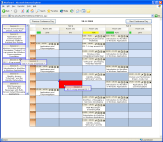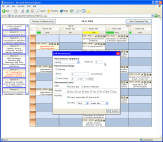 Help
What our customers say
In the past I have purchased other components from other parties. I will say proudly that TMS is the best in support, price and style. Whenever I need a help your team is always there to help me. Keep up the good work
Hi Bruno Just want to drop you a line about how great your presentation was today. We often fail to point out to someone when they do a great job! You did a great job, you gave me a lot of ideas, and you answered my question very well. THANK you for your great products & super support.
Thank you for developing components where I can best describe it like this: TMS components is a case where "The wheels fit the car, and NOT the car fit the wheels". Well done.
As always your support is extraordinary and lightning fast.
Great controls - Just like I remember from the project I worked on 1998-2003. The controls only got better
❮
❯
---
Included In
Bookmarks