Blog
All Blog Posts | Next Post | Previous Post



Bookmarks:
Tuesday, September 06, 2016
We're pleased to inform TMS FNC UI Pack beta v1.5 is available now for all TMS ALL-ACCESS customers. In this beta version we've added no less than

10 NEW components

! With TMS FNC UI Pack you only need to use 1 UI control set to master application development in VCL, FMX + LCL and target 5+ different operating systems.




What's new in the TMS FNC UI Pack beta release:
New: TTMSFNCGridDatabaseAdapter: adapter to connect the TTMSFNCGrid to any database
New: TTMSFNCToolBarPopup: popup version of the TTMSFNCToolBar
New: TTMSFNCRichEditorEditToolBarPopup & TTMSFNCRichEditorFormatToolBarPopup: popup version of the rich editor format and edit toolbar
New: TTMSFNCScrollBar: fully configurable scrollbar
New: TTMSFNCResponsiveList: responsive design list control
New: TTMSFNCSearchList: multi-column list with optional categorized items, pictures and text
New: TTMSFNCSearchEdit: editable version of the TTMSFNCSearchList
New: TTMSFNCHint: application / form wide HTML formatted hints
New: TTMSFNCURLBitmapContainer: bitmap container with the ability to download images from an URL
Comes with several new demos that demonstrate various features of the 10 new components we have added in this beta version.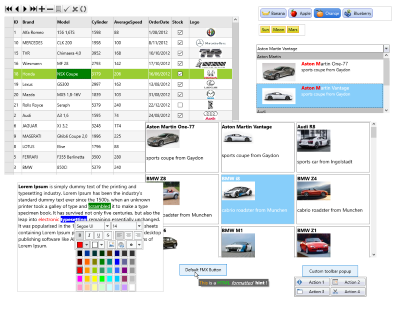 We're eager to hear your experiences with the beta version!
A link from where the TMS FNC UI Pack beta 1.5 version can be downloaded has been added on the 'My products' page for all TMS ALL-ACCESS users. We welcome all comments, feedback & suggestions via email.

With TMS FNC UI Pack, you can target 3 frameworks and 5+ operating systems. Therefore we hope to receive as much feedback as possible about the use of these components on several platforms (VCL Win32/Win64, FMX Win32/Win64, MacOS-X, iOS, Android, LCL Win32/Win64, Mac OS-X, iOS, Android, Raspbian, ... ) and several IDE's (Delphi XE7, XE8, 10 Seattle, 10.1 Berlin, C++Builder XE7, XE8, 10 Seattle, 10.1 Berlin, Lazarus 1.4.4 or 1.6 with FPC 2.6.4 or FPC 3.0).

We look forward to all your feedback!



Nancy Lescouhier




Bookmarks:





This blog post has not received any comments yet.




All Blog Posts | Next Post | Previous Post