VCL
TMS VCL UI Pack
Our bundle of over 600 VCL UI controls for modern, feature-rich Windows application development, including grids, planner, richeditor, ribbon, web updater, treeview and much more...
---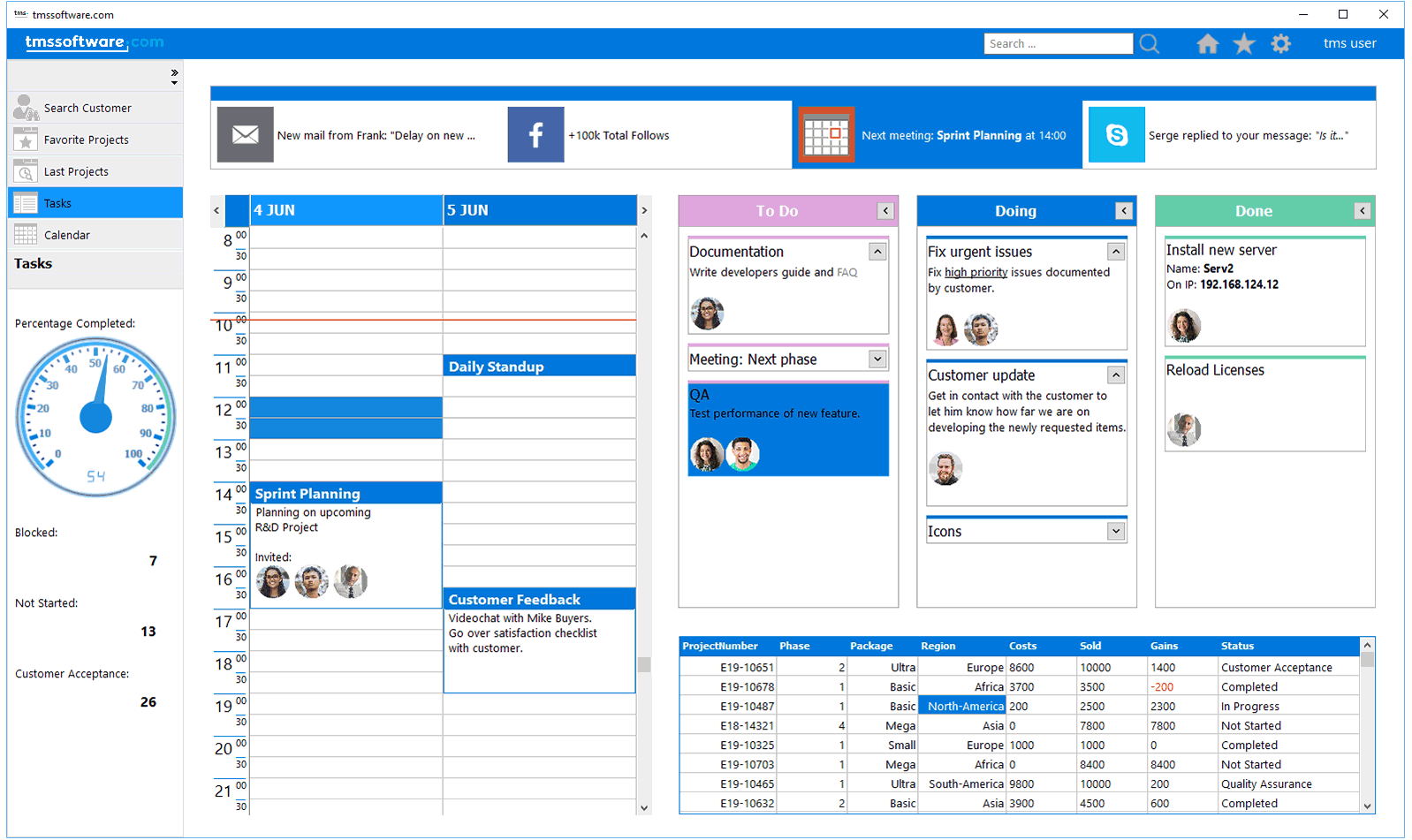 Features
---
Feature-rich & powerful grid components
The grids feature flexible printing
Through properties you can have:
Page number, date, time, title in footer or header.
Different header & footer font.
Use cell font and color from display or different print font control.
Automatically splits columns over multiple pages if needed.
Print selected regions from the grid.
Set margins, print centered.
Use repeated fixedrows and fixedcolumns for multiple page output.
Automatic fit to page.
See before you print with preview.
Specify borders of each cell for printing.
Additional custom printing.
Wordwrapped, rich text, HTML formatted text printing.
HTML formatted print titles.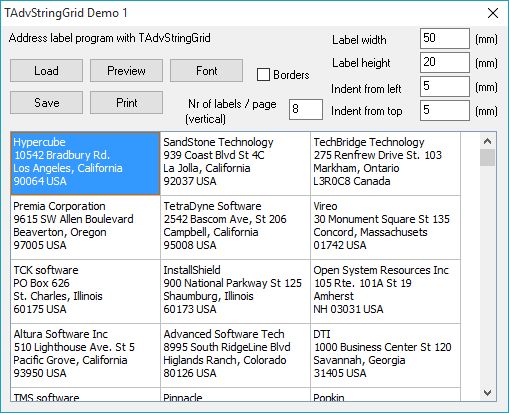 Feature-rich display capabilities
Set text alignment to Left, Justify, Right for each cell.
Each cell can have different font & background color.
Select from singleline, multiple line to automatic wordwrap.
Show URLs as real clickable URLs.
Draw ellipsis when text doesn't fit column.
Hidden columns.
Wallpaper.
Rich text cells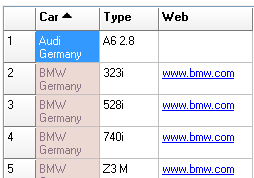 Easy & fine navigation control
Automatically advance to next cell.
Single key insert and delete rows.
Automatic cells cut and paste.
Masked edits with autoadvance.
Immediate caret positioning on mouseclick.
Automatic sorting when column headers are clicked with several sort methods and customizations.
Cell search functions.
Cell editing disable capability.
Different hints for each cell.
Incremental key lookup.
Dynamic scroll hinting.
Easy & intelligent clipboard functions with auto fill and auto expand ranges & rich text aware.
Enhanced row and column moving with position indicators.
Automatic skip over fixed and read-only cells.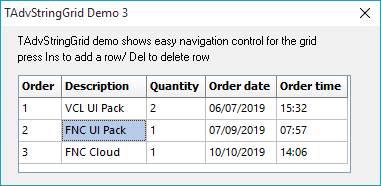 Feature-rich inplace editors and open for custom editors
Have your choice of edit controls:
Normal left or right aligned edit controls.
Masked edit controls with automatic cell advancement.
Checkboxes, comboboxes, cell data bound checkboxes.
Datetimepicker, timepicker, datetimepicker with up/down.
Edit control with ellipsis button.
Comboboxes and edit controls with auto-lookup and auto history.
Integer, float, time, date, spinedit control.
Button control.
Radio button control.
Use another custom editor.
Expand/contract node controls.
Rich text inplace editing.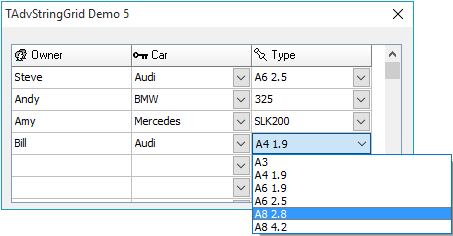 Flexible & fast import/export capabilities
Save to file, load from file.
Save to CSV, append to CSV, load from CSV, insert from CSV.
Save to XLS, XLS sheets, load from XLS, XLS sheets. (native support, without the need to have Excel installed)
Save to rich text RTF files (native support, without the need to have Word installed)
Save to streams, load from streams.
Save to HTML with color, alignment and font markup.
Save to ASCII files, append to ASCII files, load from formatted ASCII files.
Save to XML files, load from XML files
Save to Word DOC files.
Save to PDF files.
Load from MDB tables.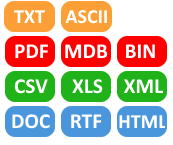 Support for various graphics types in cells
Add images to your cells:
Control positioning of image on top, bottom, right, left ...
Add icons, bitmaps, imagelist items and data dependent images.
Rotated text.
Multi image cells.
TPicture, TFilePicture objects opening support for all kinds of graphic formats.
Progress bar.
Button.
Comment indicator.
Interfaced graphics to show any kind of custom graphics.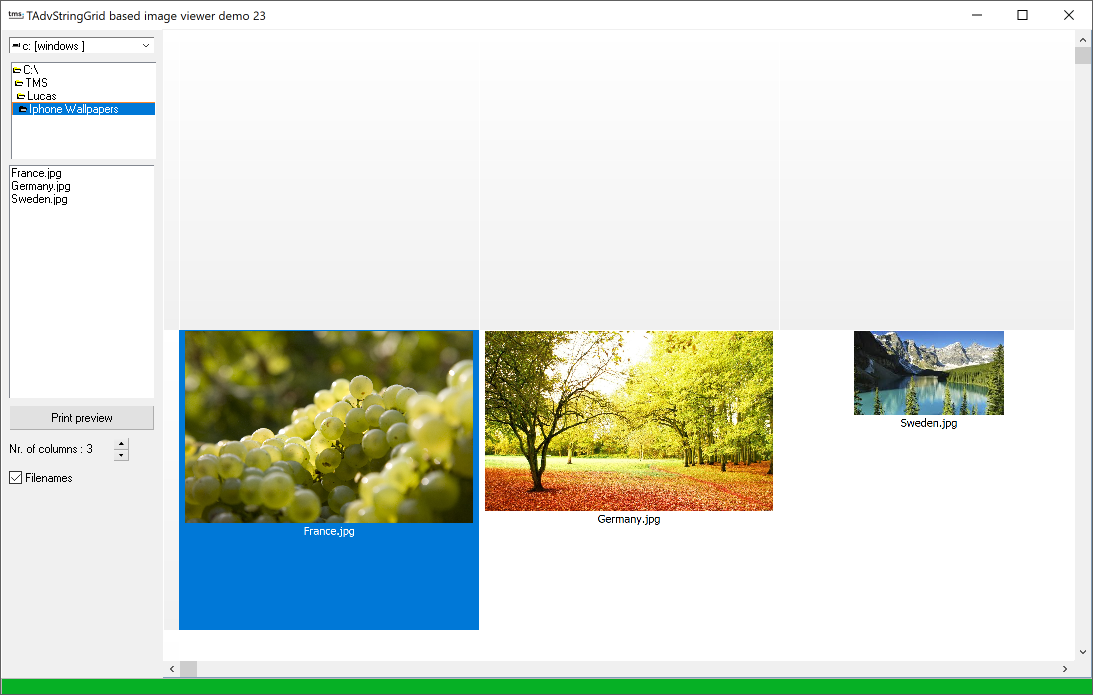 TAdvGridFindDialog
Find dialog for TAdvStringGrid. Easy to use full featured find dialog for TAdvStringGrid. Easy to use: drop the component on the form, connect the grid and call the Execute method.
TAdvGridReplaceDialog
Find & replace dialog for TAdvStringGrid.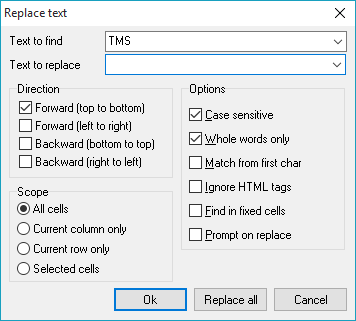 TAdvPreviewDialog
Dialog to perform a quick preview of grid printout
TAdvPrintSettingsDialog
Dialog to configure the print settings of grids
TAdvGridImportDialog
Excel-like wizard dialog for importing CSV files
TDBAdvGrid
DB-aware version of TAdvStringGrid.
Can be connected to any dataset via a Datasource & Columns property where the DataField can be used to set the field for each column.
Allows DB-aware mini HTML formatting to combine multiple formatted datafields per cell.
Can display BLOB memo fields and picture fields.
Allows to export data to various file formats including CSV, HTML, RTF, XLS (native, without using Excel)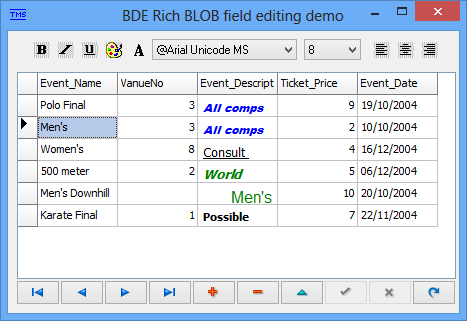 TAdvGridWorkbook
Multisheet version of TAdvStringGrid
The TAdvGridWorkbook is a component that facilitates working with multiple grids simultanously (through sheets) but keeps a centralized single access to the grids properties and events. With this centralized approach, it is sufficient to write one event handler that will be used for all sheets in the workbook or set one property shared by all sheets in the workbook.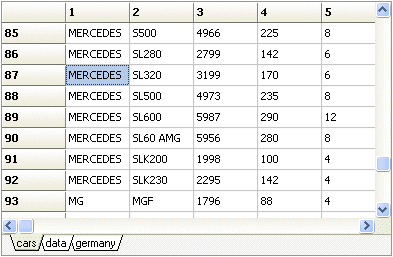 TAdvGridFilterPanel, TAdvGridFilterDialog
Easy visual entry of filter conditions for the TMS grids
Panel version for use on existing forms or version in dialog style
Smart detection of column data type to enter filter values as text, numbers, checkbox, date, time
Highly customizable appearance and fully translatable UI
TAdvDBFilterPanel, TAdvDBFilterDialog
Easy visual entry of filter conditions for the datasets (TTable or TQuery type datasets)
Panel version for use on existing forms or version in dialog style
Uses dataset field types to control filter operation and value entry as text, numbers, boolean, date, time
Highly customizable appearance and fully translatable UI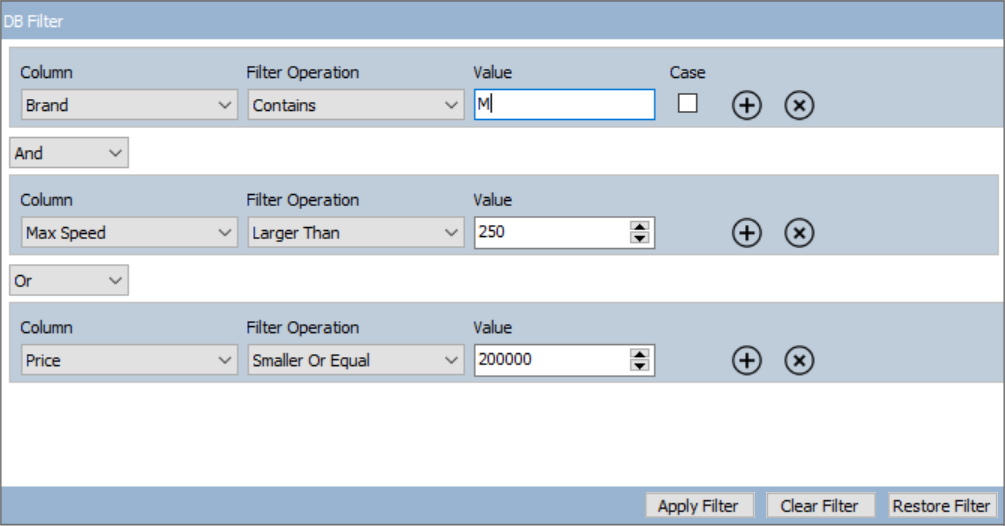 Extra Information
Help
What our customers say
Thank you Mr. Fierens for your time and assistance. Just want to say your VCL Pack is fabulous.
Thank you for this superb tool collection!
Thanks for the effort to create the VCL grid goodies ! These chunks of outcome-oriented teaching-material are very useful. It's unbelievable how powerful the grid is when one knows how to unveil it's countless options...
I don''t know how I could have created and managed so many projects without the AdvStringGrid! And although there is already so much functionality in it I''m using my own derived version with automatic column widths, enhanced export to Excel (including text colors, backround colors, comments, merged cells and more), the possibility to fill in static data at design time and more. This often allows me to build a new tool in hours instead of days! Support is also great! Thanks.
Keep up the great work...Every new release of TMS Component Pack is like Xmas. Top quality components! :-)
❮
❯
Trial Downloads
Note that the TMS VCL UI Pack replaces the TMS Component Pack. Both products can't be installed simultaneously. Therefore TMS Component Pack must first be uninstalled before installing the TMS VCL UI Pack
Site license
---
unlimited developers in the company
€ 510 yearly renewal * € 1275

---

---
Compatibility
Delphi 7, 2007, 2010, 2009, XE, XE2, XE3, XE4, XE5, XE6, XE7, XE8, 10 Seattle, 10.1 Berlin, 10.2 Tokyo, 10.3 Rio, 10.4 Sydney, 11 Alexandria, C++Builder 2007, 2009, 2010, XE, XE2, XE3, XE4, XE5, XE6, XE7, XE8, 10 Seattle, 10.1 Berlin, 10.2 Tokyo, 10.3 Rio, 10.4 Sydney, 11 Alexandria (Professional/Enterprise/Architect)
---
Licensing
License for commercial use: Single developer license, Small team license, Site license
Includes full source code
Ask questions to our engineers related to purchased product via Support Center
Free 1 year updates and new releases
After 1 year, a discount renewal is offered for a 1 year extension. *
* offer valid for 30 days after end of license. Discount price is subject to change.
---
Included In
Bookmarks
×