VCL
TMS Unicode Component Pack
Over 60 controls to add Unicode support for your Delphi & C++Builder applications
---
Feature overview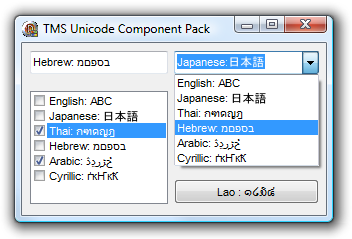 TMS Unicode Component Pack controls allow you to develop applications that take advantage of the Unicode capabilities of Windows NT/2000/XP/2003/2008/Vista/7 without abandoning Delphi, C++Builder or Windows 95/98/ME.
NOTE: These controls do not add Unicode capabilities to Windows 95/98/ME. They will run on any 32-bit version of Windows, but they only support Unicode on Windows NT/2000/XP/2003/2008/Vista/7.
Over 60 direct VCL control replacements to Unicode enable your applications
Unicode enabled Delphi/C++Builder object inspector
Unicode enabled hints.
Unicode enabled actions.
Works well with almost any IME.
Supports Unicode-only locales.
Correctly streams WideString properties on forms
Seamless migration from Unicode enabled Delphi 7,2007 or C++Builder 2007 applications to Delphi 2009 & C++Builder 2009
Incluced components
Standard
TTntMainMenu
TTntPopupMenu
TTntLabel
TTntEdit
TTntMemo
TTntButton
TTntCheckBox
TTntRadioButton
TTntListBox
TTntComboBox
TTntScrollBar
TTntGroupBox
TTntRadioGroupBox
TTntPanel
TTntActionList
Additional
TTntBitBtn
TTntSpeedButton
TTntStringGrid
TTntDrawGrid
TTntImage
TTntShape
TTntBevel
TTntScrollBox
TTntCheckListBox
TTntSplitter
TTntStaticText
TTntControlBar
TTntLabeledEdit
TTntMaskEdit
Win32
TTntTabControl
TTntPageControl
TTntRichEdit
TTntTrackBar
TTntProgressBar
TTntUpDown
TTntDateTimePicker
TTntMonthCalendar
TTntTreeView
TTntListView
TTntPageScroller
TTntStatusBar
TTntToolBar
TTntTrayIcon
Data Controls
TTntDBGrid
TTntDBText
TTntDBEdit
TTntDBComboBox
TTntDBCheckBox
TTntDBRichEdit
TTntDBLookupComboBox
TTntDBLookupListBox
System
Dialogs
TTntOpenDialog
TTntSaveDialog
TTntTaskDialog
TTntFindDialog
TTntReplaceDialog
Others
TTntForm
TTntFrame
TTntStrings
TTntStringList
TTntFileStream
TTntResourceStream
TTntRegistry
TTntIniFile
TTntClipboard
Delphi IDE Enhancements
TWideStringProperty [pre-D2005]
TWideStringListProperty
Help
What our customers say
As a developer for 30+ years, and a Delphi developer since 1996, I've a solid foundation on desktop development. But I was skeptical of indulging in web development. Though the market was demanding a switch, it seemed too difficult to make the transition. TMS Software was my "magic bullet" to get me started with zero intimidation. Love their Web Core and XData products. Now I can develop powerful web applications using Delphi. TMS Software has renewed my love for Delphi and won my heart for their innovators. Thanks to the team for great products and a large volume of demos and manuals. You ROCK!
In the past I have purchased other components from other parties. I will say proudly that TMS is the best in support, price and style. Whenever I need a help your team is always there to help me. Keep up the good work
Hi Bruno Just want to drop you a line about how great your presentation was today. We often fail to point out to someone when they do a great job! You did a great job, you gave me a lot of ideas, and you answered my question very well. THANK you for your great products & super support.
Thank you for developing components where I can best describe it like this: TMS components is a case where "The wheels fit the car, and NOT the car fit the wheels". Well done.
As always your support is extraordinary and lightning fast.
❮
❯
VCL
Buy now
TMS Unicode Component Pack
---

---
Compatibility
Delphi 7, 2007, 2010, 2009, XE, XE2, XE3, XE4, XE5, XE6, XE7, XE8, 10 Seattle, 10.1 Berlin, 10.2 Tokyo, C++Builder 2007, 2009, 2010, XE, XE2, XE3, XE4, XE5, XE6, XE7, XE8, 10 Seattle, 10.1 Berlin, 10.2 Tokyo (Professional/Enterprise/Architect)
---
Licensing
License for commercial use: Single developer license, Site license
Includes full source code
Ask questions to our engineers related to purchased product via Support Center
Free 1 year updates and new releases
After 1 year, a discount renewal is offered for a 1 year extension. *
* offer valid for 30 days after end of license. Discount price is subject to change.
---
Included In
Bookmarks
×