VCL
TMS Component Pack
Create modern-looking & feature-rich Windows applications faster with well over 600 components in one money and time saving bundle for Delphi 7, 2007, 2009, 2010, XE, XE2, XE3, XE4, XE5, XE6, XE7, XE8, 10 Seattle, 10.1 Berlin, 10.2 Tokyo, 10.3 Rio & C++Builder 2007, 2009, 2010, XE, XE2, XE3, XE4, XE5, XE6, XE7, XE8, 10 Seattle, 10.1 Berlin, 10.2 Tokyo, 10.3 Rio
---
Features
---
Spell check engine with built-in support for single or multiple languages
TMS Spell Check *
Supports ISPELL dictionaries and raw dictionary formats
Includes dictionaries for many languages including: English, Dutch, French, German, Spanish and Italian
TMS Spell Check can directly interface to TMS TAdvStringGrid, TMS TAdvMemo or TMS TAdvRichEditor or it can be used standalone
Persists its dictionaries and ignore list in a database.
Can be used either in a synchronous way or an asynchronous way
Words can programmatically be added to the ignore list and dictionary
Configurable single language spell check or multi-language spell check
Comes with several predefined user interface controls: TAdvSpellCheckConfigDialog, TAdvSpellCheckLanguageSelectDialog, TAdvSpellCheckCorrectPanel, TAdvSpellCheckCorrectDialog, TAdvSpellCheckCorrectLinesPanel and TAdvSpellCheckCorrectLinesDialog.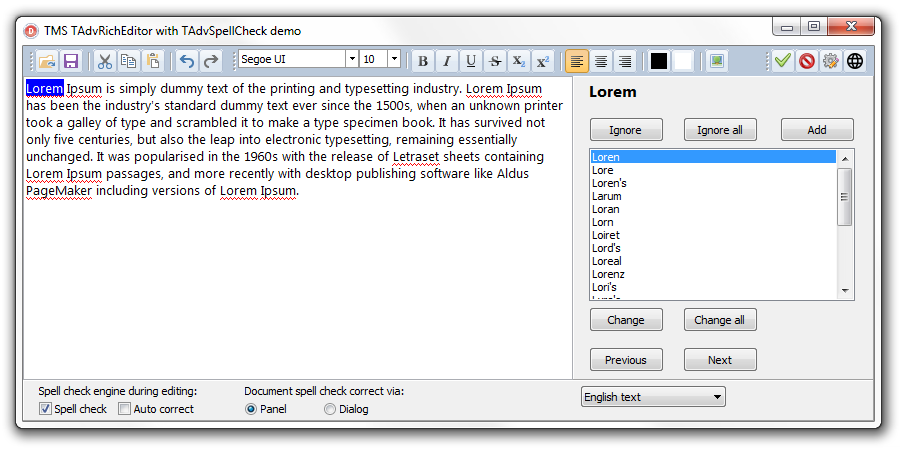 * New components from Delphi XE & C++ Builder XE and newer available
Help
Trial downloads
Fully functional trial versions of each part of the TMS Component Pack can be downloaded from the separate product pages.
VCL
Buy online
TMS Component Pack
---
for Delphi 7, 2007, 2009, 2010, XE, XE2, XE3, XE4, XE5, XE6, XE7, XE8, 10 Seattle, 10.1 Berlin, 10.2 Tokyo, 10.3 Rio, C++Builder 2007, 2009, 2010, XE, XE2, XE3, XE4, XE5, XE6, XE7, XE8, 10 Seattle, 10.1 Berlin, 10.2 Tokyo, 10.3 Rio (Prof/Enterprise/Architect)
---
View licensing FAQ
---

---
This product is also available in the following bundle(s):
Bookmarks