We're excited to announce the availability of TMS iCL v1.5 that includes several new components.
Set of native iOS components for FireMonkey applications for iPhone, iPad, iPod. No compromises: 100% iOS performance, 100% iOS look & feel.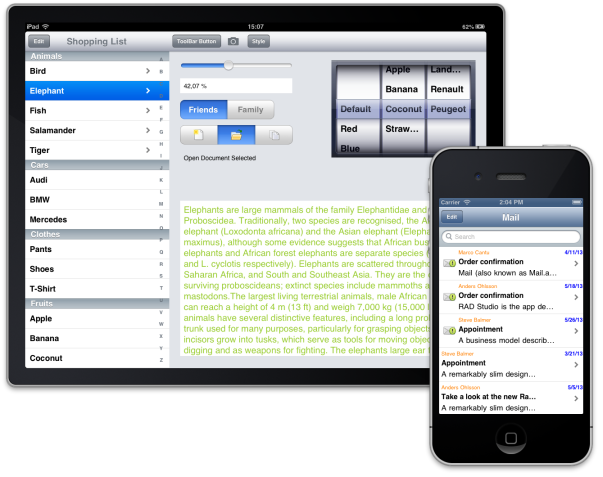 Features
100% native iOS components for FireMonkey applications for iPhone, iPad, iPod
Available as RAD set of Delphi components
TTMSFMXNativeUITableView: Native iOS tableview with sections and items
TTMSFMXNativeUIButton: Native iOS button
TTMSFMXNativeUISearchBar: Native iOS search entry edit control
TTMSFMXNativeUISlider: Native iOS slider control
TTMSFMXNativeUISwitch: Native iOS switch control
TTMSFMXNativeUIToolBar: Native iOS toolbar
TTMSFMXNativeUIPickerView: Native iOS pickerview control
TTMSFMXNativeUIDatePicker: Native iOS date/time picker or countdown timer
TTMSFMXNativeUITextView: Native iOS memo control
TTMSFMXNativeUILabel: Native iOS label
TTMSFMXNativeUIScrollView: Native iOS scroll box
TTMSFMXNativeUIProgressView: Native iOS progress indicator
TTMSFMXNativeUISegmentedControl: Native iOS segment control
TTMSFMXNativeUIStepper: Native iOS stepper control
TTMSFMXNativeUITextField: Native iOS edit control
TTMSFMXNativeMKMapView: Native iOS map view
TTMSFMXNativeFMXWrapper: Wrapper component to display a separate form as a subview of other native iOS controls
TTMSFMXNativeUIImageView: Native iOS image view
TTMSFMXNativeUIPopoverController: Native iOS popup controller
TTMSFMXNativeUIView: Native iOS view
TTMSFMXNativeUITabBarController: Native iOS TabBarController
TTMSFMXNativeUIImagePickerController: Native iOS ImagePickerController
TTMSFMXNativeMFMessageComposeViewController: Native iOS Message compose viewcontroller
TTMSFMXNativeMFMailComposeViewController: Native iOS Mail compose viewcontroller
TTMSFMXNativeUIActionSheet: Native iOS actionsheet
TTMSFMXNativeUINavigationController: Native iOS navigationcontroller
TTMSFMXNativeUIViewController: Native iOS viewcontroller
TTMSFMXNativeUIPageViewController: Native iOS pageviewcontroller
TTMSFMXNativeUIPDFViewController: Native iOS single PDF page drawing view
TTMSFMXNativeUIPDFPageViewController: Native iOS PDF viewer
Can be mixed with FireMonkey graphical controls or sub forms on a form
Includes various demos and an extensive PDF developers guide
What's new
New: introducing TTMSFMXNativeUIPageViewController
New: introducing TTMSFMXNativeUIPDFPageViewController
New: introducing TTMSFMXNativeUIPDFViewController


New: introducing TTMSFMXNativeUINavigationController
New: introducing TTMSFMXNativeUIActionSheet
New: introducing TTMSFMXNativeMFMailComposeViewController
New: introducing TTMSFMXNativeMFMessageComposeViewController
New: Overlays in TTMSFMXNativeMKMapView: circle,polyline,polygon
New: UserTrackingMode in TTMSFMXNativeMKMapView
New: Demos for actionsheets, custom drawing, view flip animation, mail, map, PDF viewer, page navigation
Improved: annotation handling in TTMSFMXNativeMKMapView
You can download the fully functional trial version for Delphi XE4 from our website:
http://www.tmssoftware.com/site/tmsicl.asp
.
TMS iCL is available
separately
and also included in
TMS Component Studio for iOS
.
| | |
| --- | --- |
| | Block Animations with TMS iCL |
A
blog
has been posted about block Animations with TMS iCL
Learn More
TMS Component Pack enables you to create modern-looking & feature-rich Windows applications faster with well over 350 components in one money and time saving bundle for Delphi 7,2006,2007,2009,2010,XE,XE2,XE3,XE4 & C++Builder 2006,2007,2009,2010,XE,XE2,XE3,XE4
We'd like to inform an update for the TMS Component Pack is available now.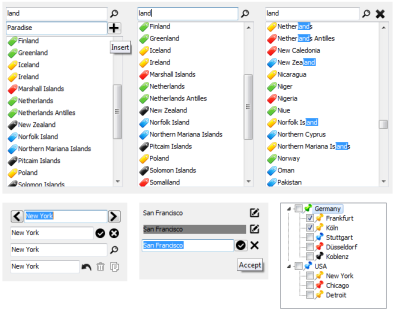 What's new & improved in version 7.0.1.0:


New: TAdvListBox: Listbox with built-in search,filtering,inserting
New: TAdvMultiButtonEdit: Edit control with configurable number of buttons left or right from edit
New: TAdvLabelEdit: Label with built-in inplace editor with OK/Cancel attached buttons for confirmation
New: TAdvCheckTreeview: Treeview with built-in support for checkboxes per node
New: edControlDropDown inplace editor in TAdvStringGrid
New: RemoveAccented option in Filter & NarrowDown() operation in TAdvStringGrid
New: FindMulti/FindMultiNext functions added to search on multiple columns in TAdvStringGrid
New: Public properties grid.HTMLSettings.HeaderText,grid.HTMLSettings.FooterText to set a HTML header text or footer text via code in TAdvStringGrid
New: Exposed CompactWindow at TAdvToolbar level
New: Support for multiline hints in TAdvMetroHint
New: ShowFieldName in DB-aware edit components TDBAdvEdit, TDBAdvLUEdit, TDBAdvEditBtn
New: EmptyText, EmptyTextFocused, EmptyTextStyle added in TAdvComboBox
New: ESC key support added for TAdvTouchKeyboard
New: OnItemCompare event added for custom sorting in TAdvSmoothImageListBox
New: Method StarteEdit(CardIndex,ItemIndex); added in TAdvCardList
Various smaller improvements & fixes
Users with an active registration can as always obtain this free update now after login on our website with your registration email & code. The details of all improvements and new capabilities are described in the release notes.

For users with an expired registration, please login on our website for special discount upgrade offers to a full new version cycle of free updates and free priority support for TMS Component Pack or upgrades to our TMS Component Studio or TMS VCL Subscription. Learn More
We're pleased to present a new FireMonkey component with extensive configurability for integrating Google Maps in iOS applications: TMS WebGMaps for iOS v1.0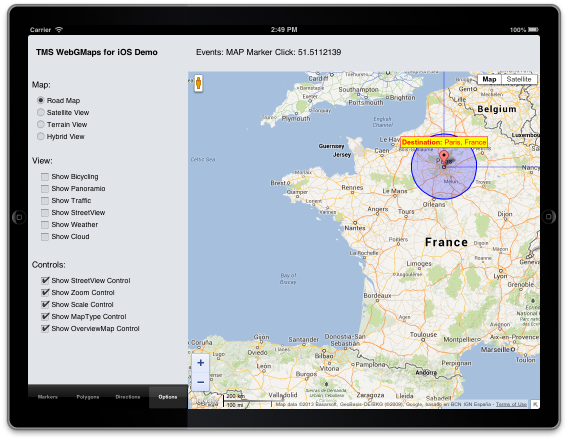 Features
Different map modes are available: default road map, satellite view, hybrid view and terrain
Extra map information can be displayed: Bicycle View, Panoramio (pictures of interest) information, Traffic information
Get & show directions on the map
StreetView can be selected
Position markers may be added to the maps, including default Google balloon markers and custom image markers.
Moving over a marker can display a hint with the marker title information
Extensive configuration options over the different Google maps controls are available: MapType control, OverViewMap control, Pan control, Scale control, StreetView control and Zoom control.
Capability to add polygons, polylines, circles, rectangles on top of the map
Capability to add labels with markers
Capability to show flight routes from point to point (based on longitude/latitude)
TWebGMapsGeocoding/TWebGMapsReverseGeocoding helper component to facilitate conversions between address and longitude/latitude coordinates
Available separately and also included in TMS Component Studio for iOS. Learn More
We're pleased to present a new FireMonkey mapping component to integrate, display & control OpenStreetMaps in iOS applications: TMS WebOSMaps for iOS v1.0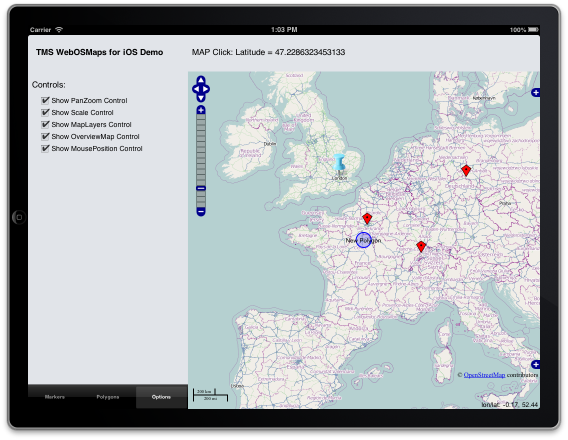 Features
Position markers can be added to the maps. Markers can be default balloons or custom images.
Markers is a collection of positions that are indicated on the map. Markers are based on longitude and latitude coordinates.
A custom label text can optionally be displayed on top of a Marker, polyline or polygon or anywhere on the map.
Polylines is a collection of lines that are displayed on the map. Polylines are based on a list of longitude and latitude coordinates.
Polygons is a collection of closed lines with a filled region that are displayed on the map. Polygons are based on a list of longitude and latitude coordinates (for Polygons of type ptPath), a center point and radius (for Polygons of type ptCircle) or two longitude and latitude coordinates (for Polygons of type ptRectangle).
Different controls are available and can be turned on or off. LayerSwitcher, OverViewMap control, PanZoom control, Scale control and MousePosition. The position on the screen of the control as well as the visibility can be defined.
Available separately and also included in TMS Component Studio for iOS. Learn More
We'd like to invite you to have a look at our iOS Showcase!

This showcase demo demonstrates the power of both TMS iCL(version 1.5) and TMS Cloud Pack for iOS (version 1.1) products for creating iOS applications. We refer to the power in terms of achieving a 100% true native iOS look and feel, using RAD methodology for developing the application, almost codeless access to a wide range of cloud services, access the iOS device hardware and finally getting the most performance out of the application.

The article, video and source download can be found here. Learn More

TMS software remains open during the holiday season and sales & support is standby for your most urgent questions.

TMS Software team wishes you a happy Summer Holiday!
As always, we thank all users for the numerous inputs, feedback, comments and suggestions. This is an invaluable help to steer our developments here at TMS software. We continue to look forward to all your further communications to direct our team to provide you better tools and components for your needs.

Kind regards,
TMS software team
Email: info@tmssoftware.com
Web: http://www.tmssoftware.com