Blog

Most Recent Post | Next Post | Previous Post | Index List



Bookmarks:
Wednesday, October 04, 2017
What initially started in 1999 as a small bundle of about 15 VCL user interface controls for Delphi, has grown in about 18 years to a set of over 400 powerful and feature-rich components for development of VCL Windows applications with Delphi and C++Builder.
Thousands and thousands of hours work went into this VCL component set that found its way to thousands of Delphi & C++Builder developers world-wide and this way, also to thousands of Windows applications used in so many places day-in, day-out to help and improve the life and work of so many people. As a small example, we learned that our VCL Planner is being used to track maintenance schedules of the French trains all over France, all in real-time.
And yet, every day our team continues to improve, extend the TMS Component Pack, assist the users in getting the most out of it and listen carefully to your needs and wishes. Also with the newest v8.8 release, we focused on user needs and added no less than 11 new features in existing components and 3 new components that were requested. We have our feature request logging & voting system for this where customers can add new feature requests and up-vote feature requests from other users so we can set the right priorities in our development.
As a result of this, these 3 new controls were added to TMS Component Pack v8.8:

New : TAdvHighLightLabel v1.0.0.0 : Label that allows to highlight specific words in the label text in different colors.





New : TAdvTouchSpinEdit v1.0.0.0 : Spin edit control with spin buttons left and right from the edit control to allow easy up/down button access from touch screens.





New : TAdvDBListBox v1.0.0.0 : Listbox control with embedded filter + insert data capability that can be bound to a dataset field.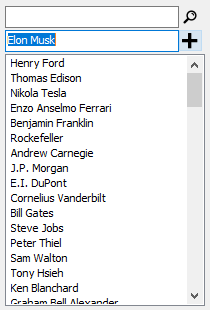 In addition, 11 new features were added to existing components:

Whether you are using the newest Delphi 10.2.1, C++Builder 10.2.1 or still using an older version of Delphi, our TMS Component Pack installer detects the versions of Delphi or C++Builder installed on your system and will install for any version (from Delphi 7 onwards) it finds.
If you haven't used the TMS Component Pack yet, check out all the feature-rich components you have been missing all this time. If you have used an older verison of the TMS Component Pack, check out all latest additions & improvements and if you have just downloaded & installed the latest version 8.8, check out the new components and features that were added.

Now that TMS Component Pack v8.8 is released, we are already laying out plans for the next version and eagerly awaiting your favorite feature requests or feedback that you can send by email, in our forum or add to our feature request system.



Bruno Fierens




Bookmarks:








Most Recent Post | Next Post | Previous Post | Index List