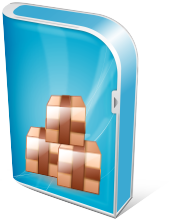 TMS Component Pack
Create modern-looking & feature-rich Windows applications faster with well over 400 components in one money and time saving bundle for Delphi 7, 2007, 2009, 2010, XE, XE2, XE3, XE4, XE5, XE6, XE7, XE8, 10 Seattle, 10.1 Berlin & C++Builder 2007, 2009, 2010, XE, XE2, XE3, XE4, XE5, XE6, XE7, XE8, 10 Seattle, 10.1 Berlin
Feature Overview
From Office 2007 ribbon control to classic toolbars, menus, navigational controls
Ribbon

Office 2003 & Visual Studio style docking toolbars & menus + Office 2007, Office 2010, Office 2013, Windows 7 scenic, Windows 8 ribbon style, Metro ribbon style
TMS Advanced Poly List

An extremely versatile and flexible architecture to create virtually any possible lists of items in user interfaces.


Polymorph user interface list with many built-in item classes and extensible for custom item classes
Built-in Text, Image, Expandable, DropDown, Button items and many more...
Items can contain lists, lists can be used in dropdown of items,...
Status indicator on text or item
Support for HTML formatted text
ImageList and GDIPPictureContainer support
Button, Radiobutton and Checkbox items
Autosize list with different modes
Automatic regular Windows scrollbars or customizable scrollers
Drag & drop support
Internal Reorder items with drag & drop
Windows Vista / 7 / 8, Office 2003 / 2007 / 2010 / 2013 and Metro style support
Optional glow available on all items
Hints on different parts of the item
Each item can host a control
Full keyboard & mouse support
Items can be positioned either horizontally, vertically, in a grid or absolute
AdvPolyList to position items with a multiple columns and/or multiple rows
AdvHorizontalPolyList with a single row
AdvVerticalPolyList with a single column
AdvPolyBox to position the items absolute with an X and Y property
AdvPolyPager page control with polymorph selection list
TAdvStickyPopupMenu

Vista style popup menu. Popup menu sticks on display till selection is made. Popup menu can embed any control.
TAdvMenus
TAdvMainMenu, TAdvPopupMenu : highly configurable MainMenu and PopupMenu components.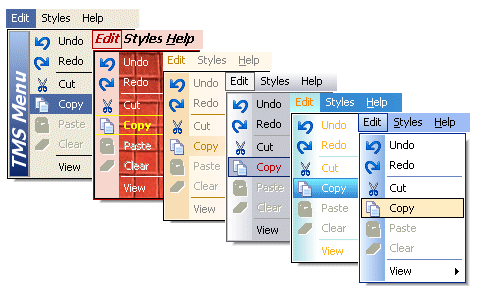 TAdvGlowButton

Vista / Office 2007 style button with glow. Can display PNG glyphs with alpha transparency and many layout capabilities. Optionally has a separate dropdown button part.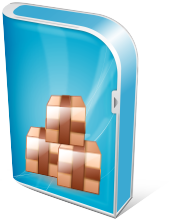 Buy online
TMS Component Pack
for Delphi 7, 2007, 2009, 2010, XE, XE2, XE3, XE4, XE5, XE6, XE7, XE8, 10 Seattle, C++Builder 2007, 2009, 2010, XE, XE2, XE3, XE4, XE5, XE6, XE7, XE8, 10 Seattle (Prof/Enterprise/Architect)

View licensing FAQ
License for commercial use: Single developer license, Small team license, Site license
Includes full source code
Free updates for a full version cycle (from v8.2 to v9.1) or maximum 2 years of free updates
Free priority support through email and forum

Single developer license
for 1 developer
€ 245


Small team license
for 2 developers
€ 395

Site license
for unlimited
developers
in the company
€ 795


This product is also available in the following bundle(s):